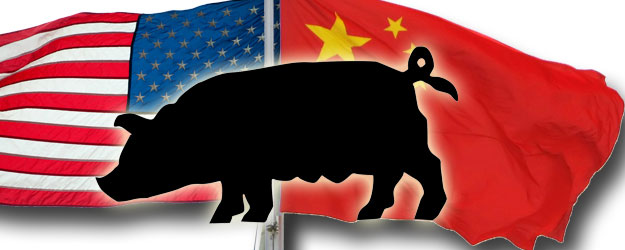 Animal-feed output in China is poised to recover from the first contraction in two decades as demand for meat increases and fish farms expand output, the agriculture ministry said.
"The outlook of the industry is getting better," said Wang Xiaohong, a feed director at the ministry's husbandry division, according to the transcript of a speech he gave at an industry meeting yesterday. Production dropped last year and has shrunk 3 percent in the first half of 2014 after a bird flu outbreak and low pork prices curbed farming, Wang said in the remarks posted in the China Feed Online website.
Rising livestock-feed output in China, the biggest buyer of soybeans, will boost the country's demand of the oilseed, the main protein ingredient. Futures in Chicago slid 4.8 percent this year amid forecasts global output rising to a record.
"The industry is regaining its footing after a disastrous first half," said Tommy Xiao, an analyst at Shanghai JC Intelligence Co., an agricultural researcher.
Hog prices in eastern Shandong province, the biggest meat producer in the country, have gained about 29 percent since April 30, while broiler poultry climbed 5 percent, Shanghai JC's data show.
Aquaculture feed demand may expand by more than 30 percent in June from May as rising temperatures help fish and shrimp farming, according to Xiao. Poultry feed and hog fodder will gain 15 percent and 10 percent respectively, he said.
Soybean crushing increased 2.1 percent to 1.6 million metric tons in the week ended June 20 from a week earlier, according to an e-mailed report from UniRich Investment Management Ltd., a Beijing-based researcher.
Soybeans for November delivery in Chicago rose 0.6 percent to $12.3125 a bushel at 1:40 p.m. in Beijing. Soybean meal in Dalian gained 0.4 percent to 3,712 yuan ($595) a metric ton.
China's soybean imports may climb 4.3 percent to 72 million tons in the year starting Oct. 1 from the current year, the U.S. Agriculture Department forecast this month.