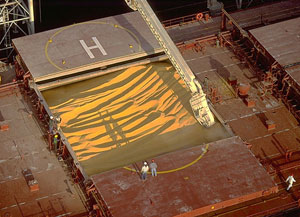 China's corn shipments from the U.S. plunged to the lowest level in seven months after the Asian country continued curbs against supplies containing a genetically modified variety it hasn't approved.
A total of 8,568 metric tons of U.S. corn was cleared by customs in April, compared with 12,023 tons in March and as much as 787,124 tons in November, according to government data released today. Total imports were 93,123 tons, with Ukraine supplying more than half, the data show.
Chinese corn buyers turned away from the U.S., the biggest supplier, to alternative sources to avoid rejections based on the presence of MIR 162, an insect-resistant genetic trait, owned by Syngenta AG. China is the second biggest buyer.
Syngenta's application for approval "is going through due procedure in accordance with China's regulations," Lei Liugong, a spokesman at the farm ministry, told reporters in Beijing yesterday.
Port authorities found and rejected 1.12 million tons of U.S. corn and corn-based product imports containing MIR 162 between October and April 21, according to the quarantine watchdog.
As of May 8, there are still 586,800 tons of sales to China that haven't been delivered, according to the U.S. Department of Agriculture.
Accumulative imports in October to April were 2.9 million tons, customs data show. The USDA projected 4.5 million tons for the 12 months ending Sept. 30 on May 10.