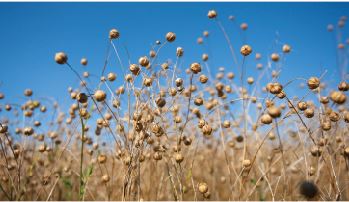 China's imports of linseed are forecast to rise to a record in 2014-15 as Canada seeks markets for "huge" export supplies of the oilseed, Oil World said.
Linseed, or flaxseed, imports by China may climb to 350,000 metric tons in the year through July 2015 from 250,000 tons in 2013-14 and 153,000 tons in 2012-13, the Hamburg-based oilseed- industry researcher wrote in an e-mailed report.
Canada is the world's biggest grower of linseed, which is edible and crushed to make vegetable oil and feed. A "sharp" jump in world production may boost trade in the oilseed, according to Oil World.
"A pronounced increase in global trade of linseed is shaping up next season, with China expected to be the key growth market for the prospective huge Canadian export supplies," Oil World said.
Rising imports will probably make China the world's largest crusher of linseed for the first time, processing an estimated 600,000 tons in 2014-15 from 530,000 tons in the previous year, according to the researcher. Chinese demand will hinge on prices being "sufficiently attractive," according to the report.
The jump in Chinese buying and crushing will probably result in declining import demand for flaxseed oil, it said.
Canada's flaxseed crop is forecast to rise to 950,000 tons this year from 712,000 tons in 2013, with the country's exports in 2014-15 climbing to 730,000 tons from 555,000 tons.
"In view of the sharp growth of domestic production and prospects of at best stagnating import demand from the U.S., Canadian producers and exporters of flaxseed are likely to benefit by increasing business with China," Oil World said.
In Canada's main flaxseed-growing province of Saskatchewan, 56 percent of the intended area was reported to be sown as of June 2 compared to 54 percent a year earlier, while 89 percent of the crop was rated good or excellent, from 68 percent a year earlier, Oil World said.