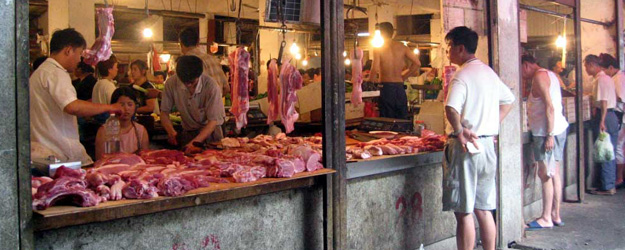 The growing number of people entering China's middle class is rapidly increasing meat consumption, which should prove beneficial for U.S. grain and oilseed producers as well as for U.S. livestock producers.
"China faces tremendous challenges, feeding 1.3 billion people every day," says Bill Westman, vice president of international trade for the American Meat Institute, Washington, D.C. Westman spoke at USDA's 2012 Agricultural Outlook Forum.
Ten years ago when China ascended to the World trade Organization, 50 million Chinese households were considered middle class, defined as those households with incomes of more than $20,000 (U.S.). Today that number is nearing 250 million households.
In addition, there are 635 million peasant farmers and 235 million migrant workers that could someday enter the middle class. "With development and rising incomes, if this segment were to increase per capita meat consumption even by a small amount, it would have a large impact on the market," says Westman.

While China grows a portion of the corn and soybeans it needs to feed its burgeoning livestock industry, most of China's land is non-arable desert, dry savanna, or mountains, says Westman. Only 13 percent of China's land is now cultivated, he adds.
"Corn and wheat varieties used in China have improved over the years but still only yield about half of the U.S. average production per unit of land," Westman notes. And Chinese soybean yields have been flat for 25 years.
This year, China is expected to plant 33.4 million hectares of corn, just slightly less than a projected 34 million hectares in the United States, according to USDA. Corn production in China, however, is only expected to reach 191.75 million metric tons, compared with 313.92 million metric tons in the United States. Projected 2012 soybean production in China is 13.5 million metric tons, compared with 83.17 million metric tons in the United States.
No. 1 in Pork
China is the world's largest pork producer with 51.3 million metric tons in 2012, more than half the world's production. China is also the world's second largest producer of broiler meat with 13.8 million metric tons. However, it is a relatively small producer of beef.
Last year, U.S. suppliers exported 1.2 million metric tons of beef, pork, and poultry to China, a 16.5 percent increase from the previous year. U.S. poultry exports alone rose 19 percent to 700,000 metric tons, making China the largest market for U.S. poultry products.  U.S. pork exports rose 64 percent to 483,000 metric tons, making China the third largest market for U.S. pork. "Think about what will happen when this market opens for U.S. beef," says Westman.
"The government of China's objective is to create larger concentrated swine operations, with greater disease control and more efficiency, but there is a need for infrastructure—cold chain distribution—and technology," says Westman. "One company is building or retooling a 500-head-per-day swine processing plant every week." This creates opportunity for grain and oilseed producers as well as for equipment manufacturers. 
"The implication is that if these large operations are successful, they will need good-quality feed for them to work properly," he adds. Roughly half of China's hog farms have fewer than 100 head, but this segment is shrinking, while the number of larger operations is growing.

China's agricultural industry is also limited by available water in the northern part of the country, and the Chinese have long said they would import water in the form of commodities, says Westman. "That is, they will import what commodities they need in order to make up for shortages in the market," he adds. That could mean meat or feed. Regardless of which it is, demand for U.S. feed will likely increase as meat consumption in China rises.
---