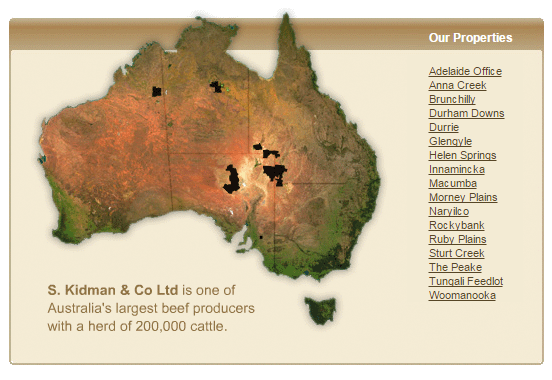 One of the Chinese bidders for Australia's most iconic cattle company is joining forces with a local investment group as it seeks government approval for a foreign takeover.
Shanghai Pengxin Group is working with Australian Rural Capital Ltd. on a bid for S. Kidman & Co. that would leave the local partner with a direct stake in the 117-year-old cattle company, Australian Rural Capital said in a statement Tuesday. Shanghai Pengxin has proposed the latest deal to Australia's Foreign Investment Review Board, according to the statement.
The offer to dilute China's ownership of Kidman follows domestic opposition to a foreign takeover of Australia's largest private landowner with properties stretching across states from Queensland to Western Australia. The government in November blocked the sale to an overseas buyer, saying the proximity of one of the ranches to a weapons testing range could compromise national security. Kidman is now carving out that ranch -- Anna Creek -- from the sale.
Shanghai Pengxin's bid values the Kidman ranches at more than A$370 million ($276 million) and Australian Rural Capital could own as much as 20 percent of the cattle company, the Australian newspaper reported Tuesday. The statement didn't say how much Australian Rural Capital might own and a spokesman didn't return a call seeking details.
Australian Rural Capital, which has a stock-market value of just A$3.9 million, plans to raise funds in domestic capital markets to allow locals to invest in Kidman, through a fund or an investment company managed by Australian Rural Capital, it said.
Kidman, which was listed for sale in April, initially attracted bids from Shanghai Pengxin and Hong Kong-based investment firm Genius Link Asset Management, according to a person with knowledge of the matter. GLAM already has investments in Australia.
Kidman -- established in 1899 by Sidney Kidman who became known as Australia's Cattle King -- runs about 185,000 cattle at ranches spanning 101,000 square kilometers (39,000 square miles), or about 1.3 percent of Australia's total land area. The family-owned enterprise produces grass-fed beef for export to Japan, the U.S. and Southeast Asia.