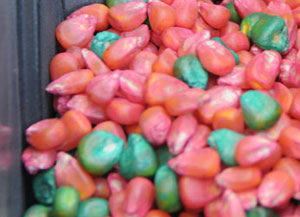 A Chinese woman charged as part of what federal prosecutors say was a conspiracy to steal trade secrets from U.S. seed corn companies is seeking to have her case separated from her brother's and wants a trial held as quickly as possible.
In documents filed in federal court in Des Moines, the attorney for Mo Yun also asked a judge to force federal prosecutors to come up with more details about the charges.
Mo, 42, was charged in July. She is one of seven people connected to Chinese agriculture biotechnology company DBN Group, which prosecutors say stole patented seed corn from fields in Iowa and Illinois and shipped it to China to try to reproduce its traits. The government says the value of stolen seed and the intellectual property of U.S. seed corn companies exceed $500 million.
Mo was arrested July 1 at Los Angeles International Airport while waiting for a return flight to China. She had come to the U.S. for a Disneyland vacation with her two young children.
Her attorney, Terry Bird of Los Angeles, has asked a judge to order the government to provide details of the charges, including the specific seeds purported to have been stolen, aspects of each seed that is alleged to have been a trade secret and from where the seeds were allegedly taken.
In the court documents filed Thursday, Bird complained the government has dumped thousands of documents, many in Mandarin Chinese, on him and the defense team less than four months before trial.
He said despite the volume of documents, the government's indictment fails to provide enough detail for him to fully prepare a defense.
"Against such vagaries, it is impossible for Ms. Mo to discern what trade secrets she is accused of conspiring to steal or why it is alleged that she believed those to be trade secrets," he said.
Bird also asked the court for a separate trial from Mo's brother, Mo Hailong, who is under house arrest in Des Moines awaiting trial.
Because of the complexity of her brother's case, Bird said it likely will move at a slow pace and Mo wants her trial as soon at Dec. 1 so she can prove her innocence and get back to her children and family in China.
Bird said evidence against Mo is weak, based on instant message excerpts that likely are not admissible as evidence because there's no proof they're complete or accurate and they're hearsay evidence.
A spokesman for the U.S. attorney's office prosecuting the case did not respond to a message.
Assistant U.S. Attorney Jason Griess has argued in previous court filings that while the evidence is not extensive, "evidence of Mo Yun's involvement in the conspiracy is far from weak. In spite of the fact they were made early in the conspiracy, these communications clearly show Mo Yun's knowledge of, and active participation in, key aspects of the conspiracy to steal trade secrets," he wrote.
Mo's brother was arrested in Florida on Dec. 11, 2013. He allegedly worked with other employees of DBN and its Kings Nower Seed subsidiary to take corn from Midwest cornfields between 2007 and 2012. The five others indicted in the case have not been located and remain fugitives.
Mo is the wife of Shao Genhou, the chairman of DNB Group whose net worth is estimated at $1.4 billion. He is not charged in the case.
Mo is free on bond but must wear a GPS monitor and stay in a home in the Des Moines area between 10 p.m. and 7 a.m. daily.