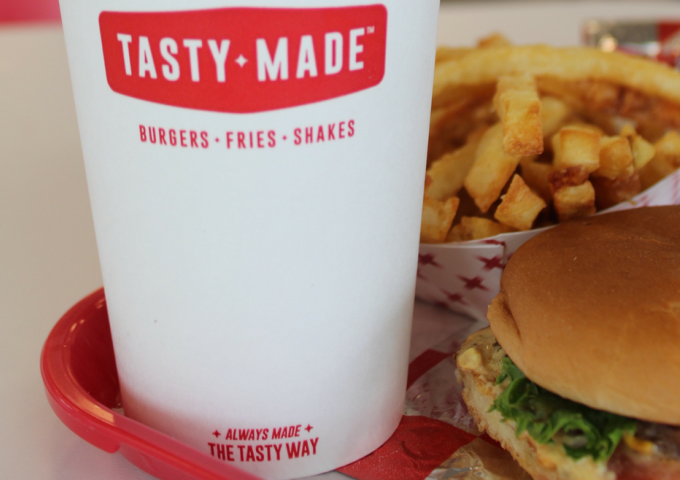 Chipotle Mexican Grill Inc. says its foray into burgers is going well.
Its new offshoot restaurant called Tasty Made, which opened in Lancaster, Ohio, on Oct. 27, is seeing "strong" sales, according to spokesman Chris Arnold. Breaking from Chipotle's focus on burritos, Tasty Made offers a limited menu of burgers, french fries, soda and milkshakes. It's also selling a smoky bacon sauce.
"Tasty Made is off to a very good start," said Arnold, giving an early update on the closely watched move. "The food has been great, and the feedback we've received thus far has been largely positive."
Tasty Made, which is touting responsibly raised beef, could be a bright spot for a company still reeling from a food-safety crisis. Since foodborne illnesses sickened hundreds of customers across the U.S. last year, Chipotle has had to ratchet up marketing and offer free food in a bid to get people back in the door. For now, its comeback has proven elusive. Third-quarter same-store sales plunged 21.9 percent, worse than what analysts expected.
Ackman's Role
Activist shareholder Bill Ackman took a stake in the beleaguered company this year, becoming Chipotle's second-biggest investor. Ackman said this week that his relationship with the burrito chain is "extremely constructive," but the billionaire hasn't laid out a strategy for the company.
As it expands into burgers, Chipotle is winding down an earlier effort. The company said last month that it was abandoning growth efforts for its Asian-food spinoff restaurant, ShopHouse, and would pursue strategic alternatives for the chain. Chipotle also owns a stake in Pizzeria Locale.
Tasty Made's Yelp reviews are mixed, though they've been improving over the past two weeks. It is currently approaching a three-star rating, out of five.
"There have been some criticisms," said Arnold, who declined to give specific sales figures for Tasty Made. "But on the whole, we are hearing very good things."