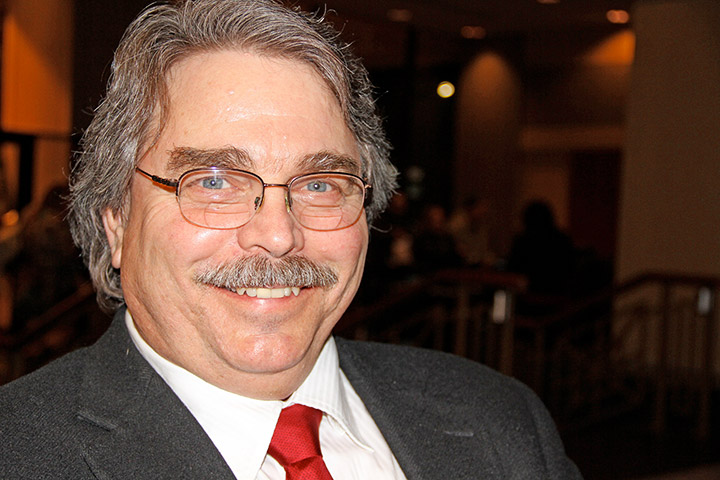 Everybody wants on the seed, but everybody doesn't belong. How does the U.S. seed treatment industry stay innovative as it rolls into 2015? By looking abroad, maintaining passion, and remaining open to new technology, according to Tim Eyrich, senior manager, Plant Nutrition Development, WinField.
Addressing the crowd at the 2014 Exceed the Seed Symposium, Chicago, Eyrich spoke plainly: "We have to continue gaining knowledge and checking other parts of the world. The seed treatment industry must stay open to new technological processes, and be a student of the game; that's the most important factor. We must keep our passion -- realizing we never know everything and therefore must keep learning."
When considering a potential technology to put on seed, Eyrich is focused on one factor: How does it affect the sink to source relationship? The sink to source rate relationship, which will drive early-season nutrient acquisition and root growth, must be established as quickly as possible. "For any plant, the most important thing is early-season vigor and the biggest limiting factor to high yield is nutrient acquisition."
Screening challenge
Companies want their technologies on seed because it's a secure revenue driver. If a commercial marketer has a product that works equally well – foliar or seed treatment – where will they go? Eyrich says they will go to the seed every time.
From the wholesaler to retailer our point of view, a big struggle involves dealing with the quantity of people that want their product in a seed treatment, and screening technology is a big challenge for the seed treatment industry in 2015. "If you're getting people coming to you with 40 to 50 new products each year, how do you screen for the one that might really be good? Screening new technologies is a tough challenge," notes Eyrich.
In addition, where does a new technology fit with everything else on the seed? Will hybrid producers apply it or will retailers be trained to put it on the seed? Eyrich says the industry must always consider application points where the farmer could still get a return on investment, other than on the seed.
Fast-growing market
As farmers wait for spring planting in 2015, there are particular treatment concerns that should weigh heavy in the decision making process. Fungicides are a natural fit, particularly systemic ones that protect against seedling diseases. As farmers delve into biologicals, biostimulants and PGRs, data must back up purported efficacy. "Growers should literally say, 'I want to see your data – scientific and replicated. Tell me about how it works and about some farmers that have tried it. How will the treatment perform specifically in my environment?'"
Biologicals can be subject to trouble when they cross regions and topographies -- that's where inconsistencies are found. Eyrich advises growers to give treatments farm trials on multiple sites – four or five split fields.
John Moreland, director of sales and marketing, Oliver Manufacturing, describes a fast-growing market for seed treatments as the agriculture industry moves away from broad spread application of pesticides, fungicides, herbicides and biosolutions. Rather than broadcasting across a field, those technologies are increasingly placed onto seed for a more eco-friendly application.
Moreland advises farmers to always consider cost, return, and yield when choosing seed treatments. "A treatment is going to cost a farmer X amount of dollars per seed. A farmer has to look at the feasibility of applying technologies to seed against other practices – in-furrow or otherwise. In my mind, it's all about return on investment, and those things a farmer spends additional money for must return yield increases to justify the applications."
Bigger biological play
Seed treatment issues are common to all of agriculture. As the farming economy changes and commodity prices contract, unique challenges are placed on agriculture companies and growers. Farmers have to look more closely at choosing seed treatment technologies – such as biologicals -- to extract high yields.
Sustainability has always pushed biologicals, but one of the biggest driving forces for biologicals is the creation of additional yield. For years, biologicals have had a fit, but bigger R&D chemical manufacturers have entered the biological arena and opened the door for testing, trials and funding. In the past, biological companies were relatively small and privately held with limited capital. Biologicals are very complementary to active ingredient chemistry and provide a great deal of benefit to growers. There won't ever be a straight biological platform for seed treatments, explains BASF US Crop Seed Enhancement manager Steve Bergschneider, but biologicals are getting much bigger play.
"Farmers should be asking about the spectrum of control and make sure it is a specific fit to their needs," details Bergschneider. "Is a seed treatment covering the scope of diseases faced by the farmer? I think a farmer needs to ask a lot more questions about biologicals and the differentiation between products in the marketplace. It's not enough to ask if a seed treatment behaves in a particular manner. A farmer should ask what product is being used and exactly why it was chosen."
Sustainability
The most significant issue facing the seed industry, according to Mike McFatrich, director of business management, Seed Solutions, BASF, is the continued development of technologies that positively impact yield in a sustainable manner -- and that's where seed treatments play a vital role. "Growers need to be able to do more with less, and make sure that what they plant delivers. Part of proper delivery is making sure of a good start and a good finish to each crop. The window of protection for seed must work beyond the front-end. It has to be extended to truly complement the genetics for most of the growing season."
Growers should be aware of what is in a seed treatment package that addresses precise disease concerns. When a grower has the downstream opportunity to select particular products, the choices must address the problems that have been identified, emphasizes McFatrich. "In the case of downstream applications – particularly in soybean or wheat – take a look at the coating products. Seed coating sounds like a trivial consideration, but coatings really allow for improved seed flow, singulation and drop. Essentially, growers have to make sure they're optimizing planting rates and populations, and making sure seed flows appropriately."
The seed industry faces interesting times as it continues pushing for increased yields across varied environments. Making gains with less, in a sustainable manner, is the target.