Despicable price levels for pretty much this entire season have made it extremely difficult to pull the trigger on any grain sales. Negative noise from big production, government uncertainty, limited ethanol demand and the COVID-19 pandemic are yielding much confusion for us. 
We cannot control any of these factors. Conversely there are a number of issues we can control from the farm. We are excelling in production, managing working capital and limiting expenses to the best of our ability. 
The area we all consistently struggle with is figuring out when and how to merchandise our products at profitable levels. A multitude of variables make this decision process a moving target especially during the growing season. 
Cost of production, crop rotation, yield, basis, cash flow needs, government aid, premiums, crop insurance and price volatility are all factors to analyze when making the difficult decision to pull the trigger on sales. 
When price strength or rallies occur, much of the external noise and market uncertainty can influence producers to either limit sales or do nothing. On the same token, when prices are low, the influences from external noise can motivate producers to make sales and just simply throw in the towel. 
Margin Versus Price
The challenge is to not be price focused, but instead be margin focused. If you are constantly managing your cost of production, you can look for opportunities that generate some acceptable level of profit margin or at least limit some of your risk.  
Consider the power of listing your merchandising drivers to make decisions to achieve your margin objective. 
For much of 2020, the anticipated cost of production has been higher than the marketing opportunities presented. However, as the year progresses, production becomes more clear, and additional revenue streams can be calculated. This allows you to dial in the needed price to achieve your profit margin target. In some cases, you are limiting losses. In other cases, you might be able to reach your profit margin objective.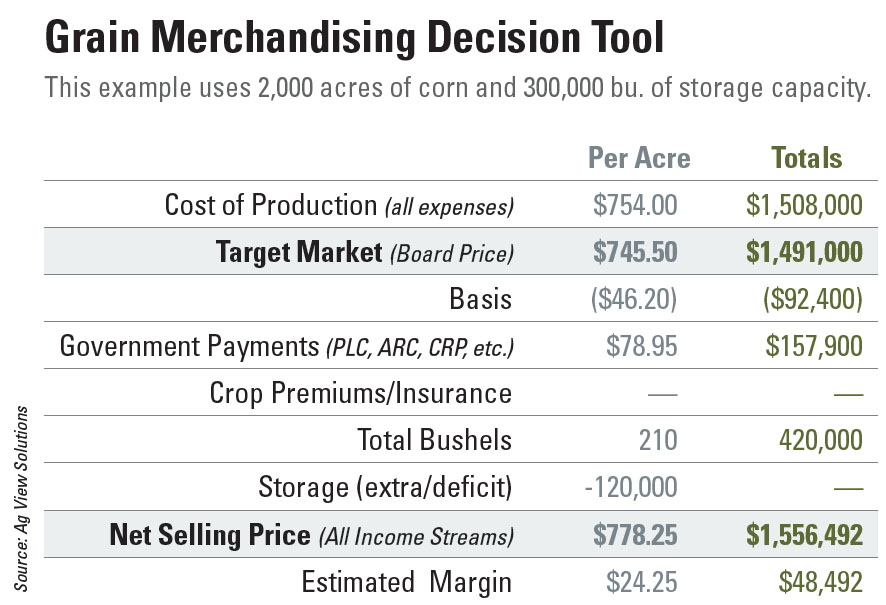 For a copy of this tool to run your own merchandising scenarios, email Chris at [email protected] 
---
Chris Barron is director of operations and president of Carson and Barron Farms in Rowley, Iowa. He is also a national financial consultant for Ag View Solutions.