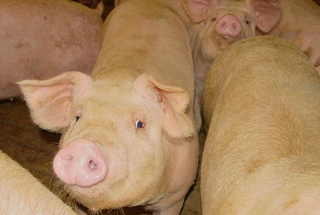 Less than two weeks before he next heads to Iowa to campaign, New Jersey Governor Chris Christie found himself defending his decision to veto a ban on pig crates in the Garden State during a rare appearance in his home state.
Christie during a 90-minute town-hall style meeting in Moorestown said he remains focused on his job in Trenton and his nascent bid for the 2016 Republican presidential campaign didn't alter his decision to veto a measure that supporters said was a clear-cut animal cruelty bill. 
During the session, Christie spoke about cutting state pensions and health benefits. The crowd of about 500 people and stayed congenial throughout. No hecklers, protesters and no curse words were uttered as the governor spoke about  the economy, taxes, pensions and assisted suicide. One teenager asked him about the veto, which he inquired if it was politically motivated in an effort to play to Iowa voters.
"The good thing is that there are no Iowa hog farmers in New Jersey. That's why they're Iowa hog farmers," he said. "Here's what I don't do, I don't look for solutions where there is no problem. If we're not using gestational crates in New Jersey, why ban them?"
The governor is next schedule to be in Iowa n March 7 for the 2015 Iowa Ag Summit, which will be hosted by pork producer Bruce  Rastetter.
For Christie, the meeting was the 128th he's held since taking office and his first since August. The governor's administration began holding the sessions in September 2010 in an effort to bypass lawmakers and take his plans to overhaul ethics and cut pensions directly to voters.
The meetings are part voter meet-and-greet and part opportunity for Christie to use them as a bully pulpit in pitching his agenda to mostly friendly crowds and grab television news coverage. The town-hall style meetings became a centerpiece of his tenure as his spats with teachers and public employees went viral on YouTube.
During the session, Christie again pressed his case for cuts to the pensions and health benefits for state workers he's said far outstrip anything in the private sector. 
The governor added that his 2016 ambitions haven't altered his performance as governor.
"I can walk and chew gum at the same time,'' he said. "I want you to know that every day I'm working as hard as I can to make sure I'm getting things done in this state. I'm going to continue to do that and if I decide to  run for president, you'll all hear about it first."
To contact the editors on this story: Terrence Dopp at tdopp@bloomberg.net David Knowles at dknowles9@bloomberg.net