Confidential peer groups evaluate tough questions 
None of us is as smart as all of us. That's the reason a trusting and confidential peer group can be a powerful process for innovation and for helping with opportunities, problems, challenges and issues of all sizes.  

International business coach Mark Richardson spends about half his time with Vistage International facilitating CEO and executive peer groups. The company has 15,000 members in 15 countries.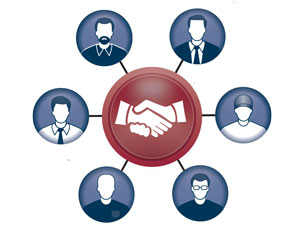 "I never cease to be amazed at the creative problem-solving, issue resolution and innovation which routinely arises from these groups (and, not least of all, management innovation for greater business and leadership agility) because of the high functionality of the trust, transparency and dialog," Richardson explains.  

One of the biggest benefits of a peer group is the ability to stop what Richardson calls wheel spin, which occurs when CEOs are stuck making decisions that might result in a fortune of avoidable costs. 

"A peer group process helps us diagnose and treat the sources of wheel spin in business (and life) more transparently than anything else I have ever encountered," Richardson says. In the group, nothing is off limits. Topics include strategy, structure, culture, leadership and communication, mental models, productivity, operations management, goal-setting and resilience. 
Shine a Light. "Within that circle of trust, when non-organizational peers are shining a light into your blind spots with care-frontation, there is nowhere to hide," he adds. "As a result, members feel more composed, confident and courageous with more balance, less stress and better perspective, translating 
everything into more traction—not least of all with cash-flow, market capitalization and stakeholder value."

South Dakota farmer Lee Lubbers has felt that blanket of trust in his own peer group, which he joined two years ago as part of Farm Journal's Top Producer Executive Network (TPEN) program. 

"The ability to talk about concerns or big decisions without fear of it ending up in the local coffee shop is refreshing," explains Lubbers, who farms 20,000 acres. "Our strengths are getting stronger as a group, and by working together, we are each overcoming our weaknesses."

Peer advisory groups represent a missing link for businesses, says Danny Klinefelter, Texas A&M University economist and founder of The Executive Program for Agricultural Producers (TEPAP). They foster routine improvement.

"If you're not changing at the rate of the leading edge of your competition, you're falling behind the pack even if you're moving ahead," Klinefelter notes.  
---
What to Expect From a Peer Group
Mike Richardson is in his second decade of facilitating CEO peer groups. Speaking from experience, Richardson says, farmers should expect the following characteristics from a good peer group. 
Care-frontation: We confront each other directly because we care.
Questioning Answers: We question answers, assumptions and beliefs that drive behaviors and habits.  
Blind Spots, Hot Spots and Soft Spots: We shine a light into members' blind spots, we help members cool down their emotional hot spots and we harden their soft spots while softening hard spots and sharp edges.
Processing Issues: The core purpose of the group is processing issues members bring, tapping into the power of the peer group context we are describing. In particular, we are at our most powerful when we are processing what I call wheel spin issues. These are the most perplexing and challenging issues members face, those on which they have been spinning their wheels for some time. Despite numerous different attempts, they are struggling to get traction.

---

Hear Mike Richardson, author of the book, "Wheel$pin: The Agile Executive's Manifesto," speak at Top Producer Seminar. The event happens Jan. 21 to 23, 2015, in Chicago. For more information, visit http://www.topproducerseminar.com