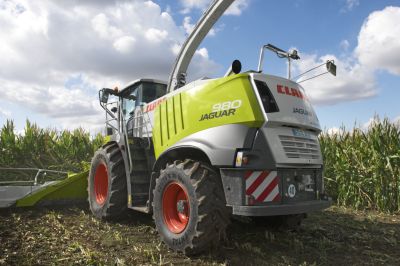 After the introduction of an all-new 800 Series JAGUAR line earlier this year, CLAAS engineers rounded out their North American offering with a redesigned JAGUAR 900 Series. The latest models, introduced at the 2014 Farm Progress Show, feature tier-four efficiency, an enhanced cooling system, improved chop quality and a modular design that makes maintenance faster and easier.

The new JAGUAR line features power to spare. The 980 model comes packaged with a powerful MAN V12 engine that pushes 884 horses. The 970 (775 hp) is equipped with a smooth-running MAN V8 engine, while the 960 (626 hp), 950 (585 hp) and 940 (516 hp) all feature inline Mercedes-Benz V8 engines. The 930 comes with an efficient Mercedes-Benz S6 (455 hp) that is suitable for those who don't require as much top-end power.

Efficiency was at the forefront when re-thinking the JAGUAR 900 Series, so all six new harvesters feature the exclusive DYNAMIC COOLING system and all but the 930 model offer DYANAMIC POWER delivery for maximum fuel efficiency. The intelligent DYNAMIC POWER engine control system provides optimal, automatic provision of the power needed for the job at hand, an approach that achieves real fuel savings. CLAAS DYNAMIC COOLING makes it possible to save up to 20 hp when operating on the road or with a partial load, also saving fuel. When operating the JAGUAR in extremely hot regions, DYNAMIC COOLING can even enable an increase in fan performance of up to 15% compared with the standard cooling system.

"The JAGUAR 800 Series launched in February 2014 was a great success," said Matt Jaynes, CLAAS of America Product Coordinator. "When we redesigned the more advanced 900 Series, we carried over many of the new features and modular design elements. We're proud to say that the CLAAS JAGUAR product line offers the most comprehensive selection of forage harvesters in the industry."

One hallmark of the previous 900 Series JAGUAR line was an infinitely variable chop length, and CLAAS is pleased to say that this option is not only still standard, but comes with improved chop quality and greater compression thanks to an additional intake cylinder for continuous pre-compression. And thanks to the CEBIS system, chop length can be adjusted infinitely without ever leaving the cab or stopping work, so operators can get more done in less time.

Optimized running gear is another important feature on the latest models. The rear axle geometry in the JAGUAR 900 Series allows for a turning radius of as little as 41 feet (depending on tires fitted).

The 900 Series JAGUAR forage harvesters also feature the same modular accelerator that won an ASABE AE50 award when introduced in the 800 Series earlier this year. The easier access and faster maintenance provided by the design hasn't gone unnoticed!

Trimble GPS guidance and mapping technology can now be easily added to the newly updated JAGUAR line. The Trimble system utilizes the CLAAS AUTO PILOT infrastructure for steering, and the Yield and Moisture Meter for mapping aspects. The CLAAS/Trimble offering is one of the EASY (Efficient Agriculture Systems) technology innovations available for the North American market. This open architecture makes it easy to add Trimble components as an aftermarket solution.

For those interested in outfitting their JAGUAR 900 Series for extra heavy use, MAD JAG heavy-duty wear parts are available as options throughout.
Source: CLAAS