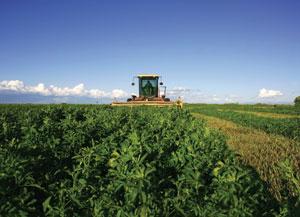 Herbicide-resistant alfalfa yields weed-free fields and higher-quality feed
John Hecox will tell you pigweed is as stubborn as its namesake. The ugly weed doesn't dry down as quickly as alfalfa, and only a few weeds can mean lower-quality hay and potential spoilage.

No longer, though—he has a tool to avoid the situation entirely. Roundup Ready alfalfa received clearance by USDA–Animal and Plant Health Inspection Service (APHIS) for planting on Jan. 27, after an intense five-year legal battle.

It won't be Hecox's first experience with the crop. Before the injunction in 2006, he had 400 acres of his Nebraska farm seeded in Roundup Ready alfalfa. From 2006 to 2010, Hecox increased his alfalfa acres and tried other weed control options.

This year, his priority was to seed as much Roundup Ready alfalfa as he could. The commercial hay grower knows that his clients, local feedlots and dairy operations depend on him to deliver high-quality alfalfa hay.

"By eliminating these weeds early, you can gain timeliness at harvest," Hecox says. "That means baling when the alfalfa is dry, not waiting on weeds."

Research doesn't stop. Even when Roundup Ready alfalfa wasn't available for planting, research on how to grow the crop continued.

"Given that Roundup Ready alfalfa is more expensive, growers should pay attention to stand establishment and seedbed preparation," says Dan Putnam, alfalfa and forage Extension specialist at University of California–Davis.

"Seeding rates can be pulled back if growers take the proper steps for stand establishment: proper soil condition, a firm seedbed, planting at the right time of year and in the ¼" depth range, depending on soil type," he adds.

"The 15 lb. to 20 lb. alfalfa seeding rate is nearly double the 10 lb. to 12 lb. that we recommend for Roundup Ready alfalfa," says Dan Undersander, Extension and forage agronomist at University of Wisconsin.

Success of the Roundup application centers on the timing of application in relation to the germination of the crop and weeds. Not all of the seeds in the Roundup Ready bag contain the polyploid gene. Less than 10% of alfalfa plants will die at the first Roundup application, which means growers will want to spray those plants early so the rest of the crop can fill the rows.

"You want the weeds to be germinated, but not so big that they lose their susceptibility to Roundup, or compete with the crop for nutrients," Putnam says.

Label recommendations for Roundup WeatherMax are to spray the first herbicide application near the third or fourth trifoliate stage.

Hecox sprayed his first herbicide application when his plants were about 6" tall. In fields where he had problems with summer annuals, a second application was necessary. "Roundup Ready alfalfa allows me to go in before the second cutting and apply a low-rate glyphosate application and zap those weeds. It was the only way we could control pigweed and waterhemp in our existing alfalfa stands," he says.

Matt Schmitz, a Wisconsin dairy farmer, was also anxious to plant Roundup Ready alfalfa again. With 700 dairy cows and 700 replacements to feed, Schmitz knows the key to higher milk production is in the feed.

"When we spray the first application, we are able to spray the field and get a clean stand. That holds the weeds back from the first year on," Schmitz says. "We have 535 acres of new alfalfa seedings, and it's all weed-free."
More to come. Now that Roundup Ready alfalfa technology is available, new traits won't be far behind.

"Now it will be less expensive to bring new traits to market because the environmental impact statement for Roundup Ready alfalfa has already been approved," Undersander says.

These include low-lignin alfalfa, to be released in 2016; traits to increase bypass protein, a boon to the dairy industry; and drought and salinity tolerance, Undersander says.