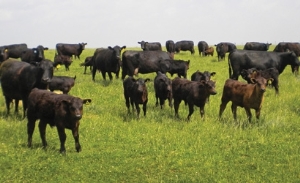 Secretary of Agriculture Tom Vilsack threw the cattle industry into turmoil last month when he proposed the implementation of a second beef checkoff. That new order could be executed in the next year and would go into effect in 2016. If the concept moves forward, this new checkoff would operate parallel to the current beef checkoff for three years prior to a producer referendum that would determine whether the two programs should continue.

The turmoil centers on the fact that the current beef checkoff is sorely underfunded. The $1 per head assessment was initiated in 1985, and two factors have significantly reduced the program's clout. First, each dollar collected today has less than half the buying power it had when the program started. Second, fewer dollars are collected since there are significantly fewer cattle today than a generation ago.

Producers have quietly discussed the need to raise the checkoff for a decade, but three years ago, a Beef Checkoff Enhancement Working Group was developed to facilitate beef checkoff program reforms, including discussions of an increase. In that working group were 11 organizations that were both supportive and critical of the present checkoff. After several meetings, the National Farmers Union (NFU) announced in early September they were pulling out of the group, with NFU President Roger Johnson claiming "the process has become a bridge to nowhere and a waste of time and resources."

The lack of progress from the working group led Vilsack to his new solution. The 1996 CommodityPromotion, Research and Information Act gives him the authority to initiate the additional checkoff program, he adds. Officials estimate the new program could generate an additional $150 million in the next three years.

"It is a step in the right direction for family farmers and consumers alike that Vilsack is actively addressing the situation after three and a half years of inaction from the Beef Checkoff Working Group," says Donn Teske, NFU vice president.

But other industry leaders are frustrated. Representatives of the National Cattlemen's Beef Association worry the proposed new checkoff would give the federal government too much authority and create duplicity and additional bureaucracy in the program. 

Regardless of motives, Vilsack's proposal undermines the efforts of the working group and leaves an industry in flux at a time of great need. A recent economic study at Cornell University found each dollar invested in beef checkoff programs from 2006 to 2011 returned $11.20 to the beef industry. 

With tight supplies and expectations of lower beef production for the next couple of years, retail prices are expected to move even higher. Stimulating consumer demand during this time will be more important than ever, and confusion over our industry's only self-help program will interfere with those efforts, conceivably limiting producer profits.