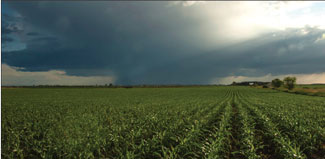 Insurance options grow
Crop and auto insurance don't have a lot in common. Yet both products help buyers manage risk at a level they choose. 

In the not-too-distant future, industry experts say, an additional similarity might emerge. Crop insurance providers could offer discounts to producers who use progressive farming practices to increase yields and reduce volatility, similar to a good driver discount.   
"If you are a farmer who is studious about data management and can prove the way you operate, you might have a better price for insurance," explains Pat Christie, CEO, Conservis. "You might see an advantage for those who are studious."

That's because technology companies will introduce products that gather increasingly accurate data. 

"If we know what sorts of characteristics or environmental variables they're facing, we could give them a preferential insurance rating going into that year," adds Cameron Norgate, director of product management, The Climate Corporation. 

Fundamentally, producers can purchase three types of insurance to guard against the risk of yield or price losses, Norgate explains. They are multi-peril federal crop insurance; private market insurance products that protect against specific events, such as a hail storm; and a third type of supplemental insurance that can add protection in excess of federal multi-peril coverage. 

Companies such as The Climate Corporation have introduced policies in the third category. Yet The Climate Corporation will not offer its Total Weather Insurance product for growers in 2015 in light of reduced commodity prices and changes in the 2014 farm bill. 

The legislation introduced the Supplemental Coverage Option (SCO), which enables producers to obtain coverage beyond the 85% threshold, up to 86%. The offering is good news for farmers, Norgate says, but it reduces the need for private supplemental insurance products. He says modest growth is likely in the near term for private market supplemental products.
Private Insurance Value. Those private products enable insurance providers to differentiate themselves in the marketplace, explains Jamie Wasemiller, owner of the Wasemiller Insurance Agency and a commodity analyst with The Gulke Group. That means the number of available private products should expand, giving producers more options for managing around the weather.

"There are great opportunities out there, but the farmer probably has to do a little bit of due diligence on their own," Wasemiller explains. 

Although dozens of private products exist, Wasemiller says probably only four or five are a good fit for any single operation. He encourages producers to work with their crop insurance agent and do research. 
Clean Data Adds Security. In addition to new financial products, Conservis CEO Christie expects farmers to benefit from better data-sorting technology in the future.

"A lot of reasons claims go sideways are usually around data," Christie notes. "Do you have the data to prove or disprove whatever is being discussed?"

Integration will be the operative word in years ahead as Approved Insurance Providers (AIPs), which are authorized to provide federal crop insurance, look to streamline field-to-insurance agent delivery of production reports, he adds. Traceability of a crop's genealogy will factor in as insurance agents research the history of seeds, chemicals and other products used on fields to determine coverage for farmers.

In the meantime, premiums are expected to fall in the near term in light of lower commodity prices.