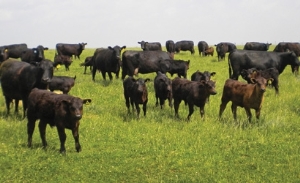 A seven-year experiment in late-night trading of U.S. hog and cattle futures in Chicago is about to end.
CME Group Inc., the world's largest futures marketplace, said today it will cut trading in its livestock markets to as few as six hours a day on Fridays, from the current schedule of 23 hours on most days. The change is scheduled to take effect later this month, pending approval by the U.S. Commodity Futures Trading Commission, CME said in a statement.
"It means that I'll get more sleep," John Ginzel, an analyst at Linn Group in Chicago, said in a telephone interview. "I applaud this. The livestock and meat markets are predominantly domestic markets. I hope it tends to cool some of the speculative fervor."
Electronic trading on the Chicago Mercantile Exchange in futures and options for live cattle, feeder cattle and lean hogs will be trimmed as of Oct. 27. The new hours will run from 9:05 a.m. to 4 p.m. Chicago time on Mondays, 8 a.m. to 4 p.m. Tuesdays through Thursdays, and 8 a.m. to 1:55 p.m. on Fridays.
CME Group began a review of trading hours in July after customers asked the exchange to explore changes and conducted an online survey in August to gather feedback. The new changes will not affect open-outcry trading hours, which run daily from 9:05 a.m. to 1 p.m.
"It is important that we provide products that meet the changing needs of our customers and the market," Tim Andriesen, the CME's managing director of agricultural commodities and alternative investments, said in an e-mailed statement. "We believe this change will result in deeper and more liquid markets."
'Concentrate' Liquidity
Overnight trading in livestock began in June 2007, Chris Grams, a CME spokesman, said in an e-mail.
"My sense, in terms of what we heard back on the survey relative to the reduction of hours, was that a number of customers really wanted to concentrate liquidity during the key daytime hours," Grams said in a telephone interview. "Most of the volume was concentrated during the daytime hours."
The shortened hours are "going to be better for the market" Troy Vetterkind, owner of Vetterkind Cattle Brokerage in Thorp, Wisconsin, said in a telephone interview. "The volume of trade that was on the overnight was just so light, and so thin."
Cattle futures climbed 23 percent this year on the Chicago Mercantile Exchange, reaching a record $1.67675 a pound today. Feeder-cattle futures surged 44 percent, today climbing to an all-time high of $2.42475 a pound. Hog futures are up 9.1 percent in 2014.