Brad Dircks, and his wife Lisa, knew the storm Monday was going to be bad.  
"The weatherman came on and said, 'Boy, this storm sure looks like a derecho thunderstorm. It reminds me a lot of 1998.' I thought, Boy, that doesn't sound good." 
The two went into the basement of their home located on their farm in Lowden, Iowa, already dreading what they'd see later when they walked back up the steps.  
"I could hear things pelt the house," says Lisa Dircks. "I was waiting for those windows to come through."  
Luckily, they still have their house but the storm didn't leave compassion for much else. Wind speeds clocked in at more than 100 miles per hour. They are left with no water or power.  
"You just never think it's going to happen to you, but sometimes it does," says Brad Dircks.  
It tore down their main machine shop and half of a second. He will need an excavator to pick up some of the large pieces.  
"We lost my main machine shed and shop," Brad Dircks says as he points. "That's my biggest loss. Behind here was another machine shed and half of that is gone." 
"[We] just have to do the best we can to clean it up and try to make it better, I guess," says Lisa Dircks.  
It also busted their grain bins. Dircks knows he won't have his bins fixed by harvest for the crop he can save. It will only make him rely more on local elevators.  
"That's one of my biggest concerns," says Brad Dircks. "Where are we going to take our grain this fall?"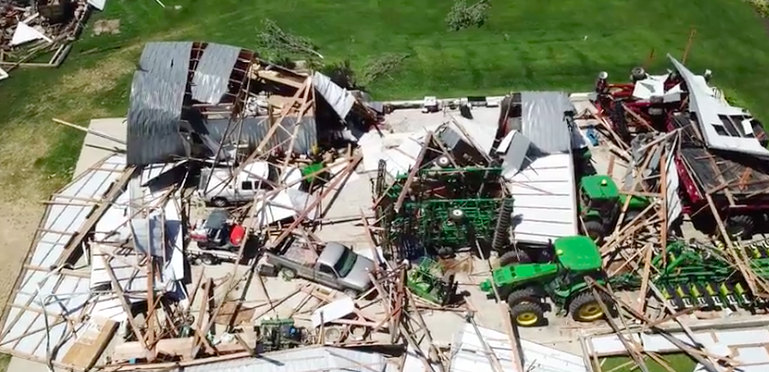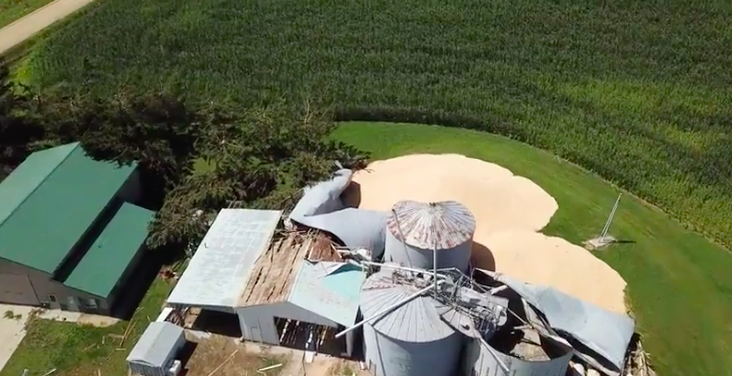 "About half-way through the day, here it came," says Rick Eckerman, the Chief Administrative Officer of Mid-Iowa Cooperative, as he talks about the storm. 
Eckerman showed us the Midway location near Toledo, IA. It suffered 80% damage, according to the cooperative's online storm updates. There still isn't any power at the location. 
"We have 5 million bushels, had 5 million bushels of storage available here, up until recently," says Eckerman.  
As a result, a 2-million-bushel ground pile will be added to the Midway location, according to the online update.  
Mid-Iowa Cooperative is posting online storm damage updates for its customers.  
The cooperative released its latest update August 11, 2020: 
"With all the damage that has taken place, we want to reassure our members that we will be ready to take grain and assist you this fall. We already had plans in place to have a total of 3.6 million more bushels on the ground before the storm hit. Mid-Iowa will have a place to take your grain."  
"We knew ahead of time, because of the large carry in the market, we were going to have piles on the ground anyway," says Eckerman. "We are going to have bigger piles now on the ground."  
He says the cooperative has a plan. The tricky part will be to keep a schedule to make sure everything happens when it should.  
"[It's about] keeping ahead of the mill wrights, demolition crew, the electricians and everyone that comes into play," says Eckerman. "[It's about keeping] one foot in front of the other as we work through the whole process to make it come together as efficiently as we can."  
Eckerman assures farmers there will be locations to take their grain come harvest. 
"We'll have a place for the producer to take their grain this fall," says Eckerman.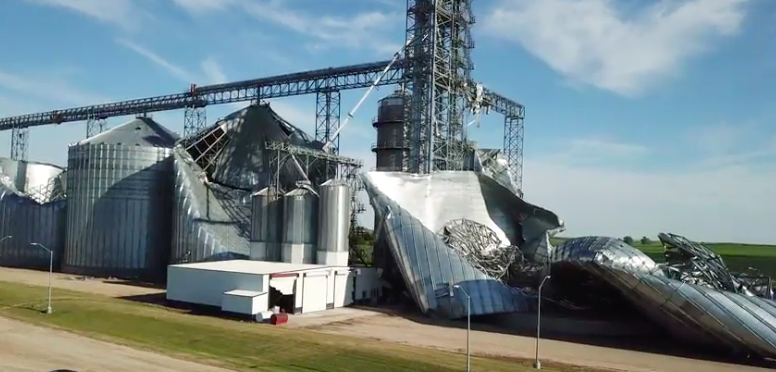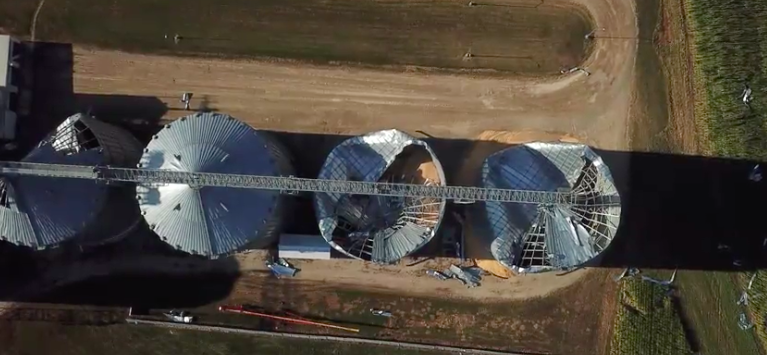 It's estimated that roughly 40% of Iowa's farmland was impacted by the derecho. The winds also wiped out millions of bushels worth of grain storage.  
During a press conference this week, Iowa Governor Kim Reynolds said it will take weeks to know the full extent of the damage but reports are significant.   
"Early estimates, and again, these are early estimates that 10 million crop acres have been impacted by the storms," says Reynolds.   
Farm Journal Washington Analyst Jim Wiesemeyer says some industry estimates for corn in the impacted area vary from 200 million to 300 million bushels.  
Reynolds issued disaster declarations for nearly two dozen counties.   
"I had a farmer reach out to me to say that this was the worst wind damage to crops and farm buildings that he has ever seen across the state in such a wide area," says Reynolds.   
This comes during a time when the U.S. Department of Agriculture (USDA) announced its latest Crop Production report for August, historically known as one of the biggest reports and market-movers of the year.  
USDA says corn production is forecast at a record high of 15.3 billion bushels, up 12% from 2019. Yields are expected to average a record high of 181.8 bushels per acre, up 14.4 bushels from last year. The department says soybean production is forecast at 4.42 billion bushels, up 25% from 2019. Yields are expected to average a record high 53.3 bushels per acre.   
USDA expects the average corn yield in Iowa to be 202 bushels per acre and average 58 bushels per acre for soybeans. Yet, these numbers don't account for the damage the storm caused in Iowa.  
Many farmers were banking on having some of their best crops.  
"There were some struggles at times," says Steve Boland, who farms near Cedar Rapids, Iowa. "For the most part, things were looking pretty good."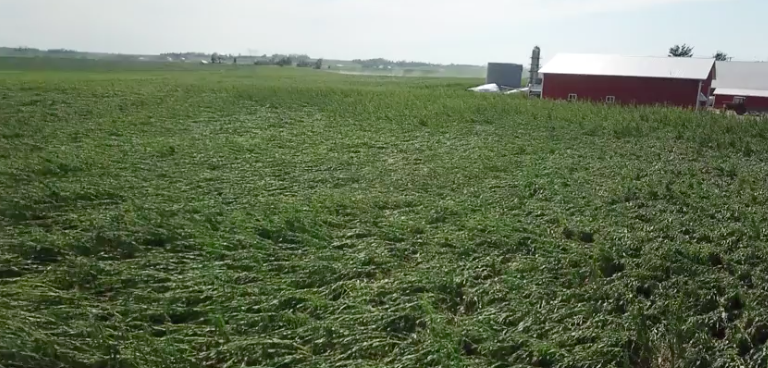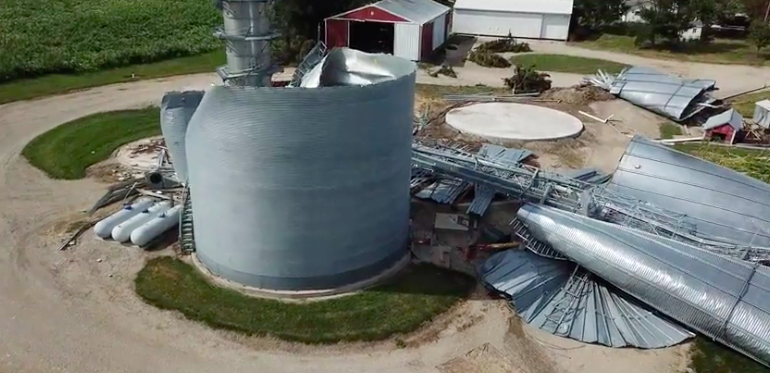 Boland is also cleaning up a mess the derecho created. He wasn't home at the time. 
"You know, you hear about people and you feel sorry for them when it happens to them, but you really don't think it's going to happen to you," says Boland.  
Luckily, he has one bin standing for fall which will hold 44,000 bushels. His larger bin is gone.  
"I had around 160,000 bushels here and it's all destroyed," says Boland. "The only thing standing is the dryer. I'm not sure how much damage it has yet." 
Boland had the cement poured to put up a new storage bin. That bin was in the shed. 
"[I'm] very fortunate that at least that bin wasn't destroyed, too," says Boland. "I'm sure that would look like the rest of them."
Picture courtesy: Mike Byers