The beverage giant will lend its distribution and marketing expertise to help deliver new Core Power from Fair Oaks Farms Brands.
A new high-protein milk shake produced and marketed by farmer-owned Fair Oaks Farms Brands will be distributed by Coca-Cola Co., it was announced this week.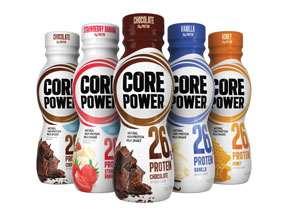 The new protein drink, Core Power, is being touted as providing the "ultimate in workout recovery."
Originally marketed as Athletes HoneyMilk in Colorado and Texas, the new Core Power line of products will be delivered initially in select markets via Coca-Cola Refreshments' distribution system.
Core Power will be available in five flavors and sell for $2.99 to $3.20. It will be offered in 26g and 20g protein versions and comes in 11.5 ounce recyclable plastic bottles. All five drinks are lactose- and gluten-free. According to Fair Oaks Farms Brands, it's made with real milk and honey, not from powdered protein. "Core Power's unique ratio of 20% whey and 80% casein is the same ratio that is naturally found in milk," the company said in a news release.
The product, currently sold in 500 to 700 Texas and Colorado stores, will expand to about 10,000 points of distribution by year-end, according to the Chicago Tribune. The first phase of Coke distribution, starting July 9, will bring Core Power to Chicago, Indianapolis, and certain markets in New Mexico, Nevada, and the Great Lakes region. Distribution will expand further in September, throughout the Great Lakes region, and adding Southern California and Northeastern markets.
Fair Oaks is owned by Select Milk Producers, a Southwestern dairy cooperative, and charged with developing value-added, dairy-based products.
"Our unique cold filtration process, which allows us to increase the amounts of protein and calcium, is a true innovation in the dairy category," said Steve Jones, CEO at Fair Oaks Farms Brands. "Core Power replenishes strength and builds lean muscle after a workout. It's a perfect recovery drink for everyone from the elite athlete to those just trying to keep fit."
"This new brand is part of an exciting category for consumers and retailers that is still in the early stage of its growth potential," said Deryck van Rensburg, president of Coca-Cola North America Venturing and Emerging Brands who views this as another great example of how the Coca-Cola system participates in the development of the next generation of beverage brands.
Core Power is the first of many planned nutritional beverages from the farmers of Fair Oaks Farms Brands, Inc. It was launched in a Texas test market in 2009 as Athletes HoneyMilk and after creating significant consumer interest, Fair Oaks Farms Brands made plans to take the product national.
Fair Oaks Farms Brands company is owned by a cooperative of 87 family-owned dairies in West Texas, New Mexico and the Midwest. The company's flagship farm is in Fair Oaks, Indiana, and is recognized as an innovator in the dairy industry and leader in sustainable agriculture.