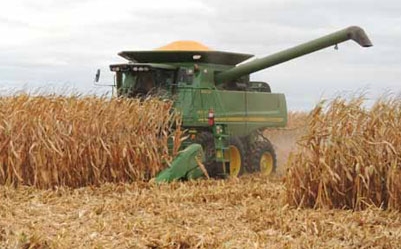 A cold front will race eastward, reaching the Atlantic Seaboard by mid-week, according to USDA's agricultural weather highlights. Showers associated with the front will total mostly an inch or less. A second front will trail the first, delivering the coldest air of the season by the end of the week to the eastern half of the U.S.
During the weekend, widespread freezes can be expected as far south as the interior Southeast and the southern Appalachians. Meanwhile, cool air will also arrive across the western U.S., accompanied by an increase in rain and snow showers. Weekend precipitation totals of 1 to 2 inches can be expected as far south as the Sierra Nevada, although higher amounts (locally 2 to 5 inches) will be confined to the Pacific Northwest.
The National Weather Service's 6- to 10-day outlook for November 2-6 calls for near- to above-normal temperatures nationwide, with the greatest likelihood of warmer-than-normal weather expected across the central and southern Plains. Meanwhile, near- to above-normal precipitation across the majority of the U.S. will contrast with drier-than-normal conditions across Florida's peninsula and most areas from California to the Four Corners States.
Regional Weather Outlooks
In the West, temperatures are rebounding to near- or above-normal levels, following a brief cool spell. However, enough cold air lingers across the Intermountain West to result in freeze warnings early today in portions of Colorado, Utah, and southern Idaho. Dry weather prevails, except for showers in the Pacific Northwest.
On the Plains, cooler weather accompanies dry conditions. Freeze warnings are in effect early today across portions of the central High Plains. Meanwhile, dryness is a growing concern on the southern Plains, where the portion of the winter wheat crop rated in very poor to poor condition on October 26 was well above the national average of 7% in Texas (17% very poor to poor) and Oklahoma (13%).
In the Corn Belt, widespread showers along a cold front stretch from Michigan to southeastern Missouri. The rain—trailed by much cooler weather—is bringing renewed fieldwork delays, following a period of favorably dry weather. On October 26, the corn harvest ranged from 22 to 30 percentage points behind the respective 5-year state averages in Iowa, Minnesota, Wisconsin, and the Dakotas. On the same date, the soybean harvest ranged from 23 to 29 percentage points behind average in Indiana, Michigan, and Ohio.
In the South, showers stretch across Arkansas and into northeastern Texas. Farther east, warm, dry weather continues to promote winter wheat planting and cotton, peanut, and soybean harvesting.
Check your forecast: View your weather conditions down to the field-level with AgWeb's Pinpoint Weather
Read and watch more Top Producer Power Hour news and videos.