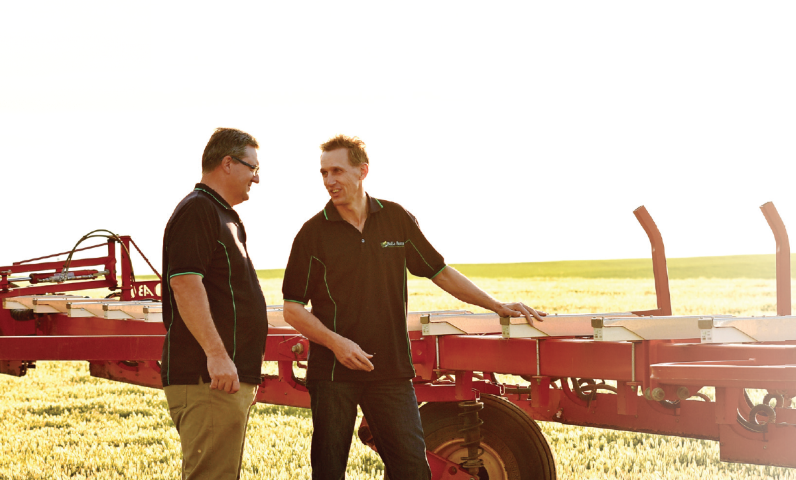 By chance one recent winter, two farmers' paths crossed in London. Australian producer John Gladigau was vacationing with his family, and his business partner, Robin Schaefer, was completing a scholarship program studying weather-forecasting technology around the world.
The two were visiting at a pub when they received a text message from their farm manager with a photo of a new air-seeder being delivered to their 27,000-acre farm called Bulla Burra, about three hours east of Adelaide near the southern Australia town of Loxton.
"We looked at each other and realized we'd achieved what we had set out to achieve," says Gladigau, who grows cereals, legumes and canola. "Our farm was operating on other side of the world without us, better than if we were there." 
The notion of collaborative farming is foreign to many, though the principles that drive it—such as sharing equipment, jointly purchasing inputs and allocating labor—are familiar to many in row-crop country. Here's how three collaborative farms compare.
It represents a peak moment for Gladigau, who is a student and advocate of collaborative farming, a systematic approach to partnering with other like-minded farm leaders to glean economic efficiencies and also free up time so farm executives can focus on the tasks that drive their curiosity and passion.
We've traded independence for interdependence. Not a one of us would go back.
Trends in the food chain suggest collaborative farming arrangements could find success if more farmers pursued them. Already, fourth-tenths of 1% of U.S. farms, or roughly 8,600 individual operations, produce 32% of farm output, notes Danny Klinefelter, Extension ag economist with Texas A&M. Big food companies such as Lay's and retailers such as Wal-Mart want to work with operations that have the best efficiency through high-end technology, buttoned-up logistics and airtight food-safety protocols.
Tried But Tough
The concept of collaborative farming is nothing new. Farmers in the U.S. have quietly incorporated elements of the practice over the decades to grow their operations and mitigate risk. As U.S. farms consolidate in the years ahead, ag experts say, collaboration represents one avenue that could enable family operations to survive for future generations and keep pace with consumer demand.
Yet collaborative farming—unlike a traditional partnership or group buying venture—is as much art as it is science, and it requires trial, error and sometimes uncomfortable transparency. Due diligence is essential to ensure finances, marketing and infrastructure are compatible, Klinefelter says.
"You've got to have common values and communicate with each other," explains Klinefelter, who organized the first-ever National Collaborative Farming Conference this June in Nashville. To lay out a vision for the future, Gladigau and Schaefer sat their families down and lay aside preconceived notions about what a family farm should be.
"I encourage you to do this yourself with a bottle of red wine around the table," Gladigau says. Discuss all possible efficiency opportunities and logistics such as:
• where the farm will be located
• what you'll grow or raise
• who will fill which roles
Intensive Analysis
To arrive at a shared vision for growth, collaborating farms must each have pre-existing strengths. Operations that  succeed in a collaborative farming venture will be those that have spent years becoming more professional.
"You've got to get better before you get bigger," Klinefelter cautions.
For the families of Rick Fruth, Rob Rettig and Mark Schwiebert, who together formed collaborative venture New Vision Farms in Napoleon, Ohio, one hour west of Toledo, the process took years of gradual integration. They grow popcorn, fresh-market green beans, specialty wheat and soybeans.
"We've all traded independence for interdependence, and not a one of us would go back," says Fruth, the operation's part-time CFO. Rettig serves as general manager.
Fruth's desire to work with other producers stemmed from observing practices in other industries. He references the example of Delta Airlines, which grew its business through mergers. He began working with two neighboring farm brothers, Mark and Dennis Schwiebert, and grew their land base.
NINE CORE LESSONS OF COLLABORATION
Through his research in the Nuffield Scholars program, Australian producer John Gladigau arrived at nine truths about the practice of collaborative farming, regardless of where in the world your operation is located.
Lesson No. 1: Collaboration is a catalyst, not a cure. "We now have a business that is effi cient, profi table and professionally run with good systems and good management," Gladigau says.
Lesson No. 2: Emotion doesn't go away. "One of biggest threats when we started was we were good friends, but our wives were best friends," he says. "That's a scary thing to do."
Lesson No. 3: You cannot be half-pregnant. "Make the decision from Day 1 to do it properly," Gladigau cautions. "There are lots of farms which have tried collaboration which haven't lasted much longer than six to 12 months because they haven't taken the time to set them up properly."
Lesson No. 4: Everything needs to be commercial. "You have to pay yourself a commercial wage, pay commercial leases and terms," he says.
Lesson No. 5: The value of relationships cannot be underestimated. Gladigau's operation aims to build strong relationships with vendors. "You don't do it to get, you do it to give," he says.
Lesson No. 6: There is a cost to being a mini-corporation. "Compliance and safety will cost you," he says. "There's no way we're not going to do any of that sort of stuff, but it puts you at a competitive disadvantage."
Lesson No. 7: You can create inefficiencies through scale and corporatization. "It is so easy for fat to turn up in between," Gladigau warns.
Lesson No. 8: There are unexpected challenges and opportunities to creating a brand. Large farms face more criticism of farming practices, he says, yet the exposure also means more access to legislators who can enact positive change for agriculture.
Lesson No. 9: It's not all about the money. To Gladigau and Schaefer, collaborative farming has meant more family time and better decisions.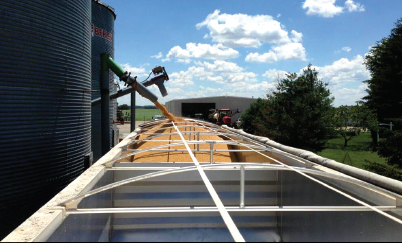 Grain from some of the 7,500 acres farmed by New Vision Farms in Napoleon, Ohio, is loaded into a truck. Three families operate the business.
Photo: New Vision Farms
They thought through hurdles and began an effort to bullet-proof their business model. Fruth began learning how to grow popcorn from Rettig, who farmed in the area, and Rettig learned no-till from Fruth.
Eventually, Rettig took over general management of their farms, while Fruth managed finances. They hired away the manager of a local fertilizer outlet to do production management and purchasing.
They updated financial statements to compare profitability, consolidated machinery and jointly hired a bookkeeper. Nothing happened overnight.
"You have to test these relationships," Rettig says.
Progressive Improvements
The mutual trust they've gained and the proficiencies they realized enabled them, like Australian producer Gladigau, to begin pursuing their dream career. In Fruth's case, that meant taking time away from the farm to work as a grower-leader with the U.S. Grains Council.
He and Rettig have collaborated  on their operation for six years now, and they collectively farm about 7,500 acres. Their average field size is 30 acres, meaning logistics of labor and machinery are essential.
It might be faster to skip the courtship and cut to the wedding, but Gladigau endorses the measured approach Fruth, Rettig and other farm operators have taken. It's one of  the principles he observed studying collaborative farming principles around the world through a $30,000 Nuffield Scholars stipend (turn to page 19 for details about applying for the prestigious study program). Personal relationships, legal entities and other issues must be locked up before moving forward.
"I went to 50 to 60 businesses around the world," Gladigau says. "You sort of tick things off. There'd be these common themes from all the successful businesses. ... None are surprising, but they are so significant as the backbone of our business."
Among his findings: Operations needed to embrace commercial wages and leases, adopt strict compliance measures and sniff out financial excesses. And they should foster stakeholder relationships.
That rings true for Chris Barron, a Rowley, Iowa, farmer and Top Producer columnist who in 2006 began a collaborative farming venture known as the FUN Group with neighboring operators. When his dad said the project wouldn't pan out because of past farmers' failures, Barron set out to learn where other operations had gone wrong. 
"No. 1, everyone got together to improve efficiency and economic situations," Barron says. No one listed helping one another as their primary goal, which Barron thought was misguided. "You could have tons of cash, but if people don't get along, you have nothing," he says.
Instead of focusing first on economics, Barron emphasized a desire to continue farming. The collaboration started with chance. In one case, a 68-year-old neighbor brought his 3,000 acres to the table, enabling him to keep ownership of his land and drive a tractor at will. 
Precision Team Work
Barron recalls sitting in a meeting with his team and two grain buyers this year. When the conversation turned to corn delivery, he polled the room and discovered they could amass major production volume.
"The larger increment of bushels can have much more impact than selling 20,000 bu. individually and trying to get a basis discount," Barron points out.
Back in Australia, Bulla Burra will enter its eighth year in 2017. The operation adds labor and equipment only as needed to ensure each cell, or enterprise, is as profitable as possible.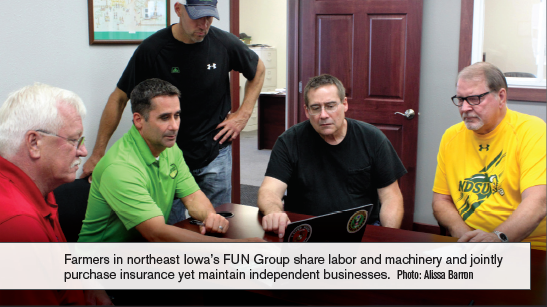 The farm is using technology "we could only dream about before" including GPS, inter-row planting at 2 cm. of accuracy, zone management and variable-rate planting, Gladigau says. With a goal of finding even more efficiencies, Gladigau and Schaefer are at the helm of a large farm built on sweat, equity and trust. They are beneficiaries of the figurative and literal freedom that stems from teamwork—from the men and women who continue to point the farm in the right direction each day.
"None of the people on our team come out of an actual field, but from horticulture and elsewhere," Gladigau points out. "We believe that you can teach skill, but you can't teach attitude."