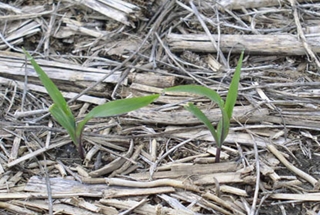 Northeastern Colorado farmer Curt Sayles describes no-till farming as something similar to religion. Just as faith defines the personal philosophy of many, the decision to till or not to till can define a farmer's working philosophy as well.
In no-till farming, crops are planted directly into vegetative cover or residue of the previous crop, rather than the conventional fallow system of plowing and leaving certain plots unseeded. The no-till approach seeks to keep roots alive as long as possible with the goal of encouraging a living, nutrient-rich system in the soil.
At the 27th Annual High Plains No-Till Conference in Burlington recently, Sayles, president of the Colorado Conservation Tillage Association, and other no-till farmers shared their successes and struggles with minimal to no tillage.
Among attendees was Greeley-based soil scientist Clark Harshbarger, who brought the no-till message back home to share with farmers at the West Greeley Conservation District's annual meeting on Feb. 5.
Presenting on the International Year of Soils, he encouraged farmers to think of their land as a living system that requires thoughtful management to continue thriving.
"Plants fix dirt. It's that simple. That's the message we want to get out there," said Harshbarger of the National Resources Conservation Service. "Grow the living root throughout the year. Grow diverse plants; diversify your system. Manage more by disturbing less."
As Harshbarger spoke on the benefits of no-till, one farmer from the crowd could be overheard saying, "Yeah, but who could afford it?" The comment provided a reminder of one of the main barriers to taking on a no-till approach: economics.
Although Sayles said he cannot imagine managing his land any other way than no-till, he pointed to other, successful farmers who have held firmly by standard tilling practices.
Farmers who have implemented the same practices throughout their lifetime may find it daunting or potentially disastrous to take on an entirely new method. Farmers like Sayles, however, who have witnessed higher organic matter and improved water retention in soils, have become faithful converts to the church of no-till.
Michael Thompson, a dryland farmer in Kansas and Nebraska, said he and his wife turned to no-till practices after struggling to improve organic matter and control erosion.
"We were just at the point where we were not having luck with conventional tillage and knew we needed to change and do something different," he said while attending the conference. "The first few years in transition were a learning experience but as we've done more and learned more, the soils have really changed in fertility and function differently."
Thompson has practiced no-till methods on his properties for 18 years, and he said he has seen his organic matter climb and water retention vastly improve.
"We can't make it rain, but we can keep it from evaporating out of the soil," he said, explaining how the use of cover crops has complemented his systematic approach.
By protecting soil from the direct sun, he keeps more of his water underground where he needs it. After four years of drought, Thompson said the ability to retain soil moisture has carried his farm through difficult growing conditions.
To complement his primary cash crops, including corn and wheat, Thompson also grows what he described as a cover crop cocktail, including turnips, rapeseed, millet, sorghum-sudangrass and sunflowers.
Although the use of cover crops can feel like a money pit that reduces production potential, Thompson has been able to work livestock grazing into his rotations to add utility to these acres.
Harshbarger also encouraged the incorporation of livestock, telling farmers, "push them back out on the land where the bison were. That's how the prairie got to be so beautiful and so strong to support our agriculture, because they were always cycling living nutrients."
In Hugo, Scott Ravenkamp said he began converting from heavy tillage to continuous no-till in the '90s. Since, he has been able to utilize more acres without buying additional land through the use of more intensive crop rotations. Like other no-till farmers, his focus is now on maximizing soil nutrients and water retention.
"We're really focused on carbon. We firmly believe, even in our dry environment, carbon is more of a limiting factor than even our water. The more carbon you have in the system, the more water your soils can hold," Ravenkamp said. "We used to call it trash, then we moved to calling it residue. Now we call it carbon on the surface."
Despite the benefits he has found in no-till farming, Ravenkamp said stubbornness can prevent many farmers from considering a new way of managing their land.
"My dad has always said admitting what you did wrong your whole life was the hardest part," Ravenkamp said.
As the next generation of farmers takes over family operations, Sayles indicated no-till may become more commonplace.
"The ones I see that are really willing to bring changes, and it'll be no-till and other soil health and cover crops and these things, that'll be the young guys," he said.--Kayla Young, The Tribune