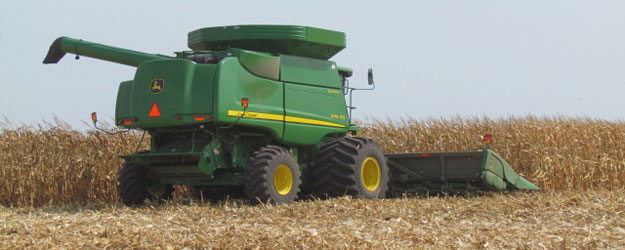 Auction prices accentuate underlying trends
Used combine values are falling this year, and they are falling hard. We knew this, but the numbers are still shocking.

Check out the accompanying data table showing a slice of the used harvester market—machines made from 2007 to 2011. The machines range in age from three to seven years old. 

In 25 years of tracking auction data, I've learned this age range is always the point of maximum value depreciation, particularly for big-ticket items such as combines.

Yet year-over-year value decreases between 20% and 30% are particularly noteworthy. In late spring this year, auction prices on late-model used combines began to soften, and values fell lower through summer. The driving factors are fairly evident: 

1. $3 corn and the falling profitability of farmers
2. Unchanged limits for Section 179, which enables write-offs of business asset purchases
3. High levels of late-model used inventory stuck on dealer lots
 
These factors have pushed farmers and dealers in opposite directions. Farmers now face falling commodity prices, no tax incentives to buy new machinery and sheds full of shiny equipment. Dealers, on the other hand, have begun to address the unpleasant task of moving excess high-priced used inventory off their books to free up swollen credit lines.

Auction sale prices have fallen on equipment from large grain farms. By contrast, values for livestock and dairy equipment continue to rise.

Given the drastic decline in values, it's worth focusing on used combines. In late August, I covered a large-scale absolute dealer inventory reduction auction in west-central Illinois that accurately captures the late-model combine situation. 

More than 30 combines sold at the auction. As we moved down the line, one machine after another, farmers in the crowd talked together. "Wow," one would say to another. "That was another very soft price." 

As I jotted down prices, I thought, "That price is about right. The price on that one is about right, too." 

What explains the difference in reactions? The farmers compared auction prices to a mountain of advertised prices online, whereas I compared auction prices to those for similar combines sold nationwide. 

Softer prices are showing on the older models at wholesale auctions, as well. At a sale in early September in Alberta, Canada, a 1995 Case IH 2188 sold for the U.S. equivalent of $13,721 and two Gleaner R72 combines sold for $9,147 each.

Values are falling. That's the simple truth of the matter.

The advertised price on any machine doesn't amount to a hill of beans. The machine's true value is measured by putting it up for sale and seeing what buyers are willing to pay. 

Sometimes, those values go up, and at other times, they go down.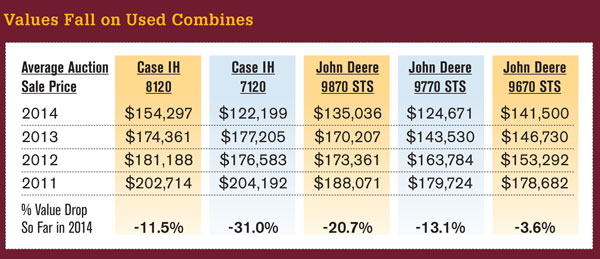 Auction sale prices continue to decline on used harvesters between three and seven years old as dealers move excess inventory to free up credit.