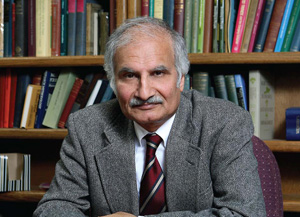 Speculating students learn with their own money
Thanks to some good commodity speculating decisions, members of the South Dakota State University (SDSU) Ag Econ 484 class finished the fall semester with nearly one-fourth of their money back plus three class credits.

"This class is exclusively for people interested in really digging down into how the market operates and getting real-world experience," says associate professor Bashir Qasmi, who has taught the class for more than a decade.

"It was probably one of the best classes I took at SDSU," says Jeremy Hebrink, who applies what he learned in the class six years ago on his family crop and swine operation near Renville, Minn. "If I could go back, I'd take it every semester possible."

Qasmi says that 20 years ago, many state Extension services set up one- or two-day seminars in hedging.

"Many people came again and again but did nothing after the exercise," he says. "I concluded this is because they have the paper knowledge but they don't have practical experience. They never had wet feet."

So he started teaching a class to provide students with hands-on trading experience.
Learn the System. During the first few weeks, students study fundamen-tal and technical analysis of trading. For each class session, they write a one-page paper and pull charts to describe where they think their assigned market is headed. Then they vote on whether to place an order or keep the existing position.

"If they want to understand the market, they have to pay attention," Qasmi says. "No matter how good you are, you are never going to predict which way the market will go. It's in the best interest of a business or farm to avoid taking risks and hedge as much as possible."

The message comes through because 80% of the time the students lose money, he says. This year, Qasmi and his 13 students pooled $400 each for a $5,600 starting fund. By mid-semester, they were up to $7,000, but the gains didn't last.

"They got overconfident," Qasmi says. Each student will get back $99.76 of the $400 invested.
Jake Obermeier, a broker at Commodity Services Inc. in Sioux Falls, S.D., handles the account.
"There's so much in the nuts and bolts of putting in an order," Obermeier says. "We spend a lot of time talking about things like that before they get to make decisions."

In corn trading this year, the class started well but the market shifted from trending to sideways. "They ended up getting whipsawed a little bit," Obermeier says. Still, he adds, "they get that feeling of actually having their money on the line."

Hebrink, who now does most of the marketing for his family's 4,000 acres of crops and 100,000 pigs per year, puts it in perspective: "When you're going to college, $200 or $300 seems like a lot of money. But when you're running, say, 1,000 acres of land and even 5,000 head of pigs, that's really cheap."

James Vande Weerd had already worked with Obermeier to hedge hogs before he took the class in 2006. His family farm north of Brookings, S.D., milks about 100 cows and feeds 500 to 600 head of beef cattle each year.

"The class helped make me more cautious as far as speculating on the farm," he says. "Just make sure you know what you're doing."