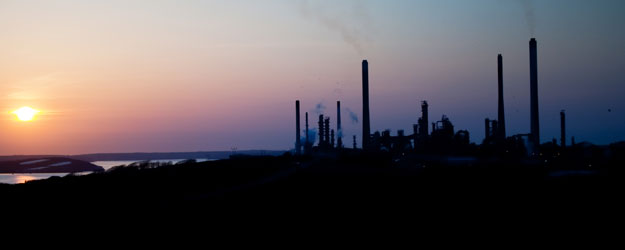 Commodities slid from the highest level in almost six months on speculation that the threat to energy and agricultural supplies from escalating tension in Ukraine's Crimea region may be exaggerated.
The Standard & Poor's GSCI Index of 24 raw materials declined as much as 1.2 percent to 652.05, after surging 1.6 percent yesterday to the highest level since Sept. 6. The gauge was at 653.58 as of 12:23 p.m. in London. Brent crude lost 1.5 percent, wheat slid 1.1 percent in Chicago, and gold futures fell 1.3 percent in New York. Corn also dropped.
Commodity prices slid today after Russian President Vladimir Putin ordered soldiers in western Russia to return to their bases by the end of the week after military exercises ended on schedule. Global stocks fell the most in a month yesterday and haven assets soared after Russia, the world's largest energy exporter, seized control of the Black Sea region of Crimea in Ukraine.
"The selloff is expected given the recent price spikes, as no one really believes that there's going to be an all-out war in Europe," said Gordon Kwan, the head of regional oil and gas research at Nomura Holdings Inc. in Hong Kong. "Oil prices should ease back."
The GSCI's 14-day Relative Strength Index rose to almost 73 yesterday as prices surged. Readings above 70 signal to some investors that gains may have been excessive. It was at 63.5 today. The index advanced 3.4 percent this year, rebounding from a 2.2 percent drop in 2013.
Oil Prices
Wheat surged the most since 2012 yesterday on speculation the crisis may cut exports from Ukraine, which is set to be the world's sixth-largest exporter this year. Oil jumped on concern Russian shipments may be disrupted.
"What's happening in Russia was hyped up, a bit overblown," said Soeren Bo Duvier Nielsen, a senior energy sales manager at Nordea Markets in Singapore.
Brent fell as much as $2.09, or 1.9 percent, to $109.11 a barrel on the ICE Futures Europe Exchange in London. West Texas Intermediate crude slid $1.44 to $103.48 a barrel in New York.
About 313,000 barrels of crude a day traveled through Ukraine in 2013, according to the country's Energy Ministry. The southern branch of the Druzhba pipeline, which transports about 1.2 million barrels of Russian oil to Europe, passes through Ukraine on its way to refineries in Hungary, Slovakia and the Czech Republic.
Crude Shipments
"Oil markets' concerns are misplaced," Michael Wittner, the head of oil-market research at Societe Generale SA in New York, said in an e-mailed report. "If Russia were to cut off crude oil exports through Ukraine, they would be hurting themselves more than they would hurt Ukraine."
Wheat for May delivery lost as much as 1.6 percent to $6.215 a bushel on the Chicago Board of Trade after jumping 4.9 percent yesterday. Corn slid as much as 1.1 percent to $4.6525 a bushel after yesterday reaching $4.8275, the highest price since Sept. 3.
Loading of Ukrainian grain for exports may remain unaffected by the threat of military conflict with Russia, Agritel SA said yesterday. Archer-Daniels-Midland Co., a grain trader, hasn't seen a significant effect on its business in the country, it said in a statement.
Ukraine is forecast to ship 18.3 million metric tons of corn in the 2013-2014 season through June from 13.6 million tons a year earlier to become the top exporter after Brazil and the U.S., according to the International Grains Council. The nation may boost wheat exports this season to 9.5 million tons from 7.1 million a year earlier, making it the sixth-biggest supplier, according to the IGC.
Drills End
Putin attended the final day of the drills in the Leningrad region yesterday, according to a statement on the Kremlin's website. The Defense Ministry held the drills, involving about 150,000 troops, across several regions near the border with Ukraine from Feb. 26 to March 3.
"First he comes out with the army, then he apparently pulls back, but who knows for sure?" said Dominic Schnider, the head of commodities research at UBS AG's wealth-management unit in Singapore.
The Kremlin continues to have 16,000 troops deployed in Ukraine's Crimea region, after ousted president and Putin ally Viktor Yanukovych fled to Russia. Russian forces ordered Ukrainian warships in Crimea to surrender, Ukraine's acting President Oleksandr Turchynov said yesterday.
Putin said today he's not considering adding Crimea to Russia and that Russia would send troops into Ukraine only in an extreme case.
Haven Demand
Gold slid from the highest level in four months. Futures for April delivery declined as much as 1.4 percent to $1,331.60 an ounce on the Comex in New York. Prices climbed to $1,355 yesterday, the highest for a most-active contract since Oct. 30, as the crisis boosted demand for a haven.
"We view any material restriction on global commodity trade as unlikely, and thus physical-market impacts should be limited," Morgan Stanley analysts Adam Longson and Bennett Meier wrote in a report. "Geopolitical risk premiums fade without a physical disruption, with prices often lower three to six months later."