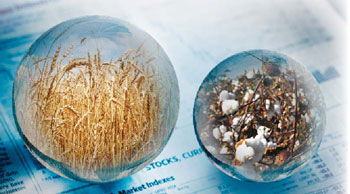 Lower prices projected for corn, soybeans, wheat and cotton in 2015
Tighten your belt—2015 is set to be a challenging year for crop producers. Marketing experts urge farmers to create a plan to drive marketing moves this year. In addition to structure, flexibility will be key to capture even a small run up in prices along the way. A little luck doesn't hurt, either. The following is a preview of the four primary crops for 2015. 
Can Farmers Afford to Stay Loyal to Corn?
By Alison Rice

The state of the 2015 corn market hinges on a question that is both economic and emotional: Can farmers 
afford to stay loyal to corn next year?

After peaking at an average farm price of $6.89 a bushel, corn prices and acreage moved lower in 2014, dipping to $3.25 in October, thanks to a record harvest of 14 billion bushels.

Many think the downward trend for corn prices will continue. While demand for corn is expected to grow next year, especially from exports, livestock feed and ethanol, prices are projected to hover at the cost of production. Economists at Kansas State University (KSU) expect 2015 corn prices to average $4.15 a bushel, while corn's closest competitor, soybeans, is projected at $9.50 per bushel.

The acreage numbers are changing, little by little. In 2014, farmers planted 90.9 million acres of corn (down from 95.4 million in 2013) and 84.2 million acres of soybeans, up from 76.8 million in 2013. The two crops could equalize in 2015, KSU reports, with projections for 87.9 million acres of corn and 89.7 million acres of soybeans.

But not everyone is convinced farmers are ready to cut back on corn—even with soybean's strong demand, higher prices and lower input costs. "Ostensibly, the balance favors soybeans, so you'd think there would be a shift back to soybeans, but I'm not sure of that," says Charles Hurbaugh, agricultural engineer, Iowa State University.

The reason? Big yields. A field yielding 220 bu. is financially compelling, even at $3.50. "There's something about harvesting 220-bu. to 230-bu. corn that makes you feel pretty darn good, and the corn yield potential just keeps going up and up," he adds.

But the amount of money required to produce such a yield might cause farmers to reconsider. "The real key [to acreage] will be the prices of the inputs," Hurbaugh says. 

Seed, fertilizer, herbicide, insecticides and irrigation all add up. Seed expenses, as measured as a percentage of budgeted revenue, hit a record high of 15.7% in 2014, says David Widmar, agricultural economist, Purdue University's Center for Food and Agricultural Business.

It could be even worse in 2015. "At $3.90 per bushel and seed expenses the same as 2014 ($118 per acre), seed costs would amount to 21.3% of total revenue," Widmar says. "Given the margin squeeze producers will face, it stands reasonable to question if the trend of upward corn seed expenses is sustainable."

In light of input costs, experts suspect if anyone takes a break from corn, it will be in places such as Montana, Kansas and the Dakotas. "The areas that became newly economical for corn—that is where the pencils will be sharpest," Hurbaugh predicts. 

Corn farmers will see ongoing demand: Animal feed, ethanol and exports are expected to consume 13.66 billion bushels, according to USDA's World Agricultural Supply and Demand Estimates report.

"At the end of the day, China has a billion people," says Chris Robinson, senior risk manager with Top Third Ag Marketing in Chicago. "They have one hog for every three people. I think it's going to take really good production to keep up with demand."

Ethanol, too, might give corn a boost. Farmers "could see movement on [renewable fuel standards] after Congress reconvenes," says Christopher Narayanan, director of global agricultural commodities research at Societe Generale in New York.

Will we have another history-making crop in 2015? While KSU projects a 13 billion bushel harvest, Hurbaugh thinks numbers could continue to climb. "Fifteen billion bushels is not out of the question," he says. "Huge crops are only a problem price-wise if there isn't demand." 
Use Early Sale Strategies for Unpriced Soybeans
By Ed Clark

Soybean demand is robust and firmly in the bullish camp, but the highest soybean supplies in history are outpacing demand. For the first time in years, price outlooks show red ink for soybean producers who haven't pre-sold. 

Old-crop prices have held relatively strong. Still, as much as two-thirds of 2014 soybeans are unpriced, says Dave Fogel, vice president, Advance Trading. The cost of storage doesn't favor holding soybeans, however, with only a 17¢ carry from now to July. 

Because of this downside risk, analysts suggest early pricing old- and new-crop soybeans. Fogel suggests selling beans and reowning with call options for upside protection. For new-crop soybeans, he suggests downside protection with put options. 

Risk will remain high throughout 2015. Central Iowa cash soybean price quotes on Dec. 12 were $9.90 for old crop but less than $9.50 for 2015 soybeans. That's $1 to $1.50 per bushel less than breakeven costs calculated by Iowa State University.

"Soybeans will respond quickly to a weather concern or political issue," says Frayne Olson, ag economist at North Dakota State University. If a rally should come, be ready to book some sales, he says.

"With good crops in South America and the U.S., 2015 soybean futures could drop as low as $8," Olson says. "That would put cash prices near $7.50. That is worst case, but it illustrates the downside risk."

However, Olson says soybeans will most likely trade in the $9.50 to $10.50 range through January. Several factors could impact prices, including major USDA reports, Brazil's weather, a possible slowdown in global economic growth and questions about China's economy. All this uncertainty indicates producers might see two pricing windows between now and spring, Olson says.

Market watchers will be closely observing production in Brazil and China to see how it influences prices.

Rabobank looks for Brazil farmers to plant 5.5% more soybeans than the past year and continue to build stocks. Brazil's global stocks-to-use is poised to reach an all-time record of 31%, or even higher, by September 2015.

"Our export sales are huge, but they are likely to slow down considerably," says Darrel Good, University of Illinois ag economist. Still, lately "China has been buying the heck out of soybeans," he says.

Rabobank predicts China's soybean crush will increase 6% in 2015, the same as the past two years.

Overall, Good sees soybeans moderating, with July futures at $9.50 to $9.75 in the first quarter of 2015—a prime pricing opportunity. "Sell beans earlier than corn," he advises.

Chad Hart, ag economist at Iowa State University, is looking for a gradual decline in soybean prices moving forward. From now to spring, he predicts prices from $9.50 to $10 for old-crop soybean futures and $9 for 2015 soybeans. "I recommend holding off a while on marketing 2015," Hart says. "We're still several months away from planting. A whole lot can change." 

Soybean exports have one advantage over corn: Soybean exports are less likely be impacted by the strongest U.S. dollar in years, Hart says. 

"China has a fixed exchange rate," he explains, so U.S. soybeans will remain competitive. 
Can U.S. Wheat Stay Strong in the Export Game?
By Sara Schafer

Wheat covers more of the earth than any other crop, but strong global competition makes predictions elusive.

While weather, crop conditions and domestic use all play into wheat prices,the No. 1 factor is exports. "If we get good exports, wheat prices are usually pretty strong," says Frayne Olson, ag economist, North Dakota State University. "If we see a lot of competition for exports, wheat prices will be soft."

Around half of U.S. wheat is sold into international markets, including top customers Japan, Nigeria, Mexico and the Philippines. China and Egypt are also major buyers. 

"The U.S. can be the supplier of last resort," Olson says. "Buyers know they can always get it from us, but they may have to pay a little more."

Wheat is price sensitive, Olson adds. "We've had a significant rally in the [dollar] recently. For wheat, even small changes in exchange rates can make a big difference," he says.

For the 2014/15 marketing year, USDA predicts world wheat production, supplies and total use will be at record-high levels. World wheat export trade will be 6.6% lower than a year ago, but still the third-highest on record. As a result, U.S. wheat prices are projected to be down to the lowest levels in four years due to limited demand for U.S. wheat exports and domestic livestock feed.  

With wheat usage increasing and ending stocks stable or higher, there's a chance supply could tighten, says Dan O'Brien, KSU Extension grain economist. If that happens, due to an increase in exports, wheat prices could hover around $7 next year. On the flip side, if U.S. wheat exports decrease, prices could fall to between $5 and $5.60.

Olson and O'Brien agree wheat acres are hard to peg this year. In some traditional wheat-growing areas, drought conditions are present and even expected to worsen.

While wheat acres tend to be stable, lower corn and soybean prices might cause a shift back to wheat. "As we look at contracting corn acres, I'm expecting the backfill will be wheat, especially in areas that have drought 
issues or aren't as valuable for corn production," Olson says. 

Ready for a Cotton Swap?
By Ben Potter

Most cotton farmers have the luxury of growing other crops, and it's definitely a possibility they will exercise for 2015.

"Likely, we'll see producers in the Midsouth shift acres back to soybeans for 2015," says Don Shurley, professor emeritus, cotton economics, University of Georgia.

The Midsouth increased cotton acres in 2014 after several years of decline because of potentially better returns. This year, Dec. 15 futures are trading more modestly at 66¢ to 67¢.

Similar shifts to other crops could play out in other areas of the Cotton Belt, too, says Darren Hudson, director of the Cotton Economics Research Institute, Texas Tech University.

"If we will see shifts, it will occur in south Texas and the Delta, and perhaps in Georgia from cotton to peanuts," Hudson says.

Both Shurley and Hudson agree the farm bill has little impact on cotton farmers, at least for now.

"We still have a ways to go with base and yield decisions, program [PLC/ARC] election and finally enrollment," Shurley says. "Producers will have to decide on STAX by their normal sales closing date, but may not have to choose between STAX and SCO for 2015. My understanding is SCO will not be fully available for 2015."

Producers and landowners will need to adapt to the idea of no automatic direct payments, he adds. "Everything will be up in the air," he says.

Hudson says educational efforts are needed because many farmers aren't fully aware of the choices they have.

"I still go to meetings where producers are unaware there is no cotton program anymore besides the loan and STAX," he says.

Cotton is grown in many countries, but China draws the most focus. But, don't forget about India, either.

"India overtook China as the world's No. 1 cotton producer in 2014," Shurley adds. "In India and China, production is down in 2015, and the U.S. is also down. This should provide support for prices."

Shurley estimates 2014's clouds of negativity will continue to overshadow the 2015 crop—pushing prices to 65¢ to 75¢. 

"In reality, anything can happen," he adds.
For more information on commodity outlooks, crop insurance options and marketing strategies, visit www.FarmJournal.com/2015_outlook