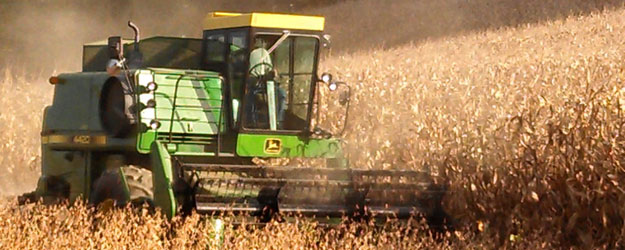 Many market analysts like comparing the potential of the 2014 crop with what U.S. farmers produced in 2009. At that time, it was a record-busting corn crop.

AgDay talked with farmers and analysts to see if it's fair to compare this year to 2009.
Watch the full report:


Jason Scott has no complaints when it comes to his crop. The farmer's beans are filling out nicely, some even four to a pod. It's the type of high-yield crop Scott remembers from 2009.

"My crop in 2009 was a good crop. It was just a nightmare because it wouldn't dry down," Scott says.

In 2009, the average national corn yield was just over 165 bu. an acre. This year, USDA put its corn yield estimate at 167.4 bus. an acre, more than two bushels higher. Meanwhile, some analysts predicted a 'high' estimate of nearly 175 bu.s an acre.

Standard Grain analyst Joe Vaclavik says no two years are the same, but so far, he does see the similarities.

"The same is planting issues, although 2009 was a little later. We did have a cool summer which is synonymous with good crop production in general," Vaclavik says.

Like Vaclavik, First Capitol Ag Senior Risk Management Advisor Mike North says it's comparable, yet too early to determine the outcome. Farmers will just have to wait and see what happens in August and September.

"At this moment, a lot of forecasts are suggestive of kind of a mild, but seasonally warm September and that could very well help finish this crop," North says.

It's the warm temperatures farmers need the next two months to mature their crop.

"Based where we are in the five-year average, we're right on track to be OK. If we just continue on the path for a longer period of time, we will start to slip behind," says North.

If crops aren't dry, North believes farmers are better prepared.

"After 2009, especially in areas that dried down, the southern and western part of the Corn Belt put in a lot of drying capacities. Push comes to shove, we will be ready," North says.

"The 2009 crop was terrible as far as harvest. It was just so wet you couldn't get it to dry down or stay in the bin," says Scott.

So for now, farmers are hoping for a better harvest and just maybe, the best crop yet.

"We're pretty proud of it this year. We've got high hopes for it," Scott says.

North says if an early frost comes, he anticipates light test weight corn and prices favorable for the producer.