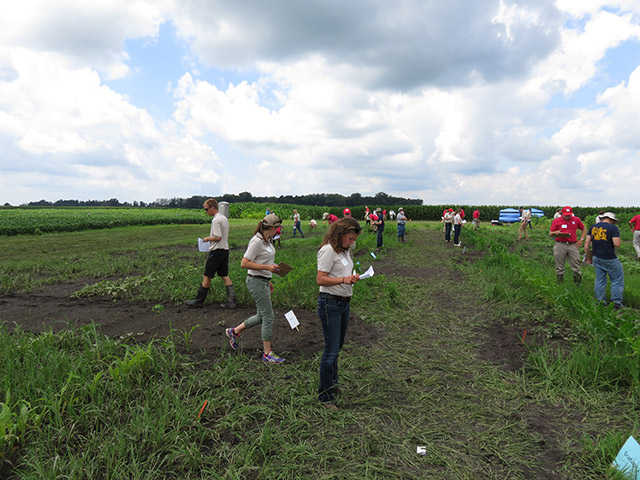 More than 200 college students put their knowledge about weeds to the test in September as they competed in the grueling Weed Science Society of America's grueling National Collegiate Competition.
A total of 65 teams from 25 schools participated in the event, which was hosted by The Ohio State University. In all, 140 graduate students and 73 undergrads competed.
The competition was comprised of several parts. Students had to identify weeds at various growth stages. They had to role-play a weed-management scenario, talking through the situation with farmers and land managers. They had to look at visual indicators of field damage and figure out which herbicide among 30 options was the culprit. And they had to perform an on-the-spot sprayer calibration.
"It was a great day, with lots of enthusiasm from students, their coaches and the many volunteers who were there to help," says Bruce Ackley, weed scientist with The Ohio State University and co-chair of the event. "The caliber of the competitors was outstanding, and I can't wait to see how their careers unfold.
This year's winners included:
Purdue University – top graduate team
University of Nebraska – top undergraduate team
Zachary Lancaster, University of Arkansas – top graduate student
Katelyn Vonn Treeck, University of Wisconsin – top undergraduate student
Winners receive bragging rights and free registration and lodging for the WSSA meeting next February. Lancaster says his team was training for several hours a day leading up to the competition. The training was especially intense due to regional variations, he says.
"I would have been right at home if we walked into a field of rice, but we knew we wouldn't see that in Ohio," he says. "We really had to get out of our comfort zone and learn so much information that we wouldn't have otherwise. I know it will make us better-rounded weed scientists by broadening our experience."
This was just the second national competition organized by WSSA, but regional variations have been ongoing since the early 1980s.