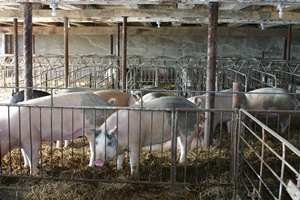 A complaint filed with the federal government says North Carolina's regulation of hog farms causes problems for minority residents.
The Charlotte Observer reported that three groups filed a complaint this week with the Environmental Protection Agency saying those living near hog farms suffer from strong odors and contaminated water.
The North Carolina Environmental Justice Network, the Rural Empowerment Association for Community Help and the Waterkeeper Alliance filed the complaint, saying the way the state regulates the farms violates the 1964 Civil Rights Act.
The complaint says many of the state's more than 2,000 industrial hog farms are located in rural areas of eastern North Carolina with large populations of blacks, Hispanics and American Indians.
The North Carolina Department of Environment and Natural Resources had not comment on the complaint.