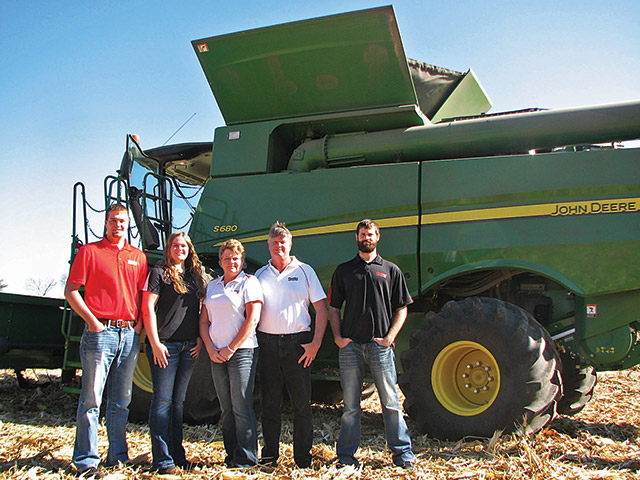 Iowa farmer's company builds equipment materials
Life provides plenty of teachable moments, but not all of them are pleasant. In 1993, a back injury forced Iowa farmer Terry Kieffer to slow down. At the time, he was raising 1,000 acres of corn and soybeans and running a farrow-to-finish hog operation.
Terry decided to study plastics and plastic-making processes instead. He purchased an Osborn thermoforming machine and set it up in a shed on his farm. Twenty years later his company, Plastics Unlimited, makes plastic thermoformed parts, cast urethane products and more for various equip­ment manufacturers in agriculture and other industries. John Deere is their biggest customer—specifically, aftermarket parts for tractor cabs. Other ag customers include Claas, Hagie, Bobcat, Gehl, Landoll and Kinze.
---
Plastics Unlimited manufactures grain tank extensions for John Deere combines as well as numerous other parts and components for ag equipment companies.
---
Intentional growth. Five years into his business venture, Terry moved the manufacturing equipment from his farm into a vacant building in Preston, Iowa. The facility that once sat alone in a hay field has blossomed into a successful industrial park. Plastics Unlimited has expanded four times, now comprising 80,000 sq. ft.

The business is a family affair. Sons Travis and Dakota are graduates of Iowa State University. Travis has worked at Plastics Unlimited for two years and focuses on engineering. Dakota has been on the job for one year and focuses on the business side. Terry's wife, Nancy, handles office duties, and daughter Amanda is studying business in college. The company employs more than 70 people.

Plastics Unlimited continues to grow with a focus on materials that will make ag equipment stronger and lighter.

"We've been seeing a movement toward carbon-fiber and more high-tech composites," Terry explains. In particular, the push toward Tier 4 Final-compliance challenged the company to make lighter parts because of the increasingly heavy components required to meet emissions standards.

"Farm equipment companies need something light that will take the hit like steel and not show any damage," Travis says.

With that in mind, in 2004, the Kieffers purchased a small company in Moline, Ill., called Fabri-Glass Composites. The business specialized in techniques such as composite molding and molded fiberglass insulation.

After finalizing the acquisition, the Kieffers developed and patented a process called tool-less engineered composite. The method bonds fiberglass to a plastic thermoformed part, creating a light yet strong product with a precolored and glossy acrylic coat. The process is used to form the extension system that supports 300-bu. and 400-bu. grain tanks on John Deere combines.

To strengthen those processes, the company purchased CNC routers for trimming materials and a water-jet cutter that works with materials up to 10'x10' in size.

"Our crew is not afraid to try anything new and is very into doing stuff that's more futuristic," Terry notes.

The family's farm roots is at the heart of their innovation. For example, they are partnering with the U.S. Soybean Board to incorporate soy oil into its fiberglass and urethane products.

Additionally, many of the company's employees come from farm backgrounds, and a few are farmers, as well. Providing quality jobs in their area is a point of pride for the Kieffers.

"Right here in Iowa, the work ethic can't be beat," Nancy says. "We realize we have not gotten where we are and cannot continue to succeed without the help of great employees, family and friends. You are only as good as the people you surround yourself with." 

You can e-mail Nate Birt at [email protected].