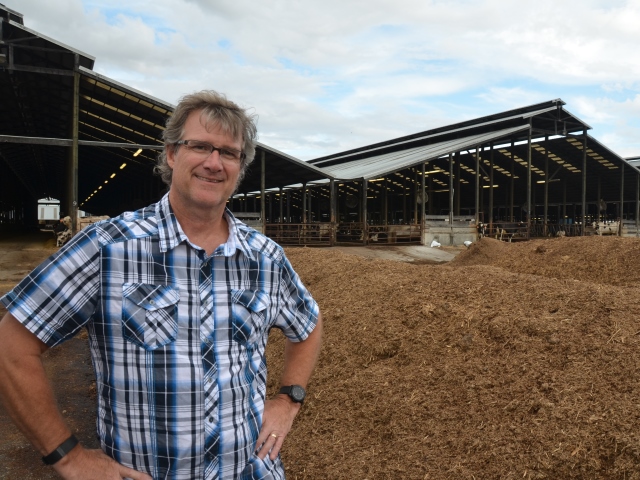 Eight years ago, Louie Kazemier was struggling with mastitis and forcing him to cull a lot of cows. New females had to be bought to keep up with the culls. Somatic cell counts were running above 400,000 cell/mL. He was searching for what the cause could be looking at milking protocols, housing and bedding.
"It was bad, and we were going broke," Kazemier says, of his Rickreall Dairy outside Rickreall, Ore.
Kazemier made a trip down Interstate 5 to Junction City, Ore. looking to buy more replacement heifers. He visited a friend's dairy who had cattle to sell and was also housing cows in a similar freestall setup. The only difference was the bedding type.
Rickreall Dairy at the time was bedding on recycled newspaper that Kazemier now attributes to his mastitis headaches. The friend was bedding on compost and only had one cow in the hospital out of 600 milking.
Kazemier came back to his dairy in disbelief at how well the compost bedding was working. He made another trip to the dairy in Junction City, this time with his herd manager so both of them could get a better feel for bedding on compost.
After a few hours, they were sold and the next week a compost turner was purchased by Rickreall Dairy.
"We've been growing ever since and that was the last time I had to buy any animals," Kazemier says.
The manure compost piles are placed into windrows just west of the dairy barns. Windrows are turned at least four times with a mobile turner to help dry out the solids.
At some points in the year the compost can get up to 7 in. of moisture on it. During the summer it runs at a moisture level of 45-50 percent, in the winter it can be as high as 80 percent. To help dry it out, grass screenings are added from a nearby grass seed growing and cleaning operation.
Stalls had to be redone three times – either widening or deepening – before they reached an optimal size for the cows' comfort.
One worker's priority is to make and replace the compost bedding.
Hospital pens that were once at capacity with mastitis and lameness now hold less than 0.2 percent of the herd. Somatic cell counts have been cut in half to below 200,000 cell/mL. The 1,700 milking cows are paying back the investment by producing 84 lb. of milk per day.
"It is nothing to sneeze at, but cow comfort took us a while to get there," Kazemier says.