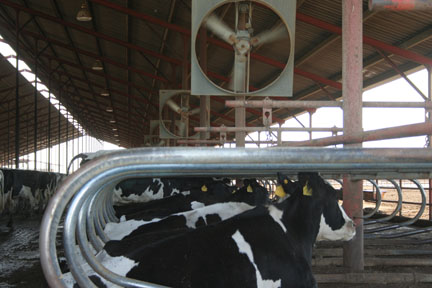 If you are looking for milk quality issues with compost-bedded pack barns, the heat and humidity of a Kentucky summer might be a good place. But under good management and cow care, there were no statistical differences found in a University of Kentucky study comparing bedded pack barns and freestalls bedded with sand. Researchers compared rates of mastitis and somatic cell counts (SCC) in eight compost bedded barns and seven barns with sand bedded freestalls.
Reports of clinical mastitis was slightly more than 1% per month in both types of barns. The mastitis infection prevalence, defined as the percent of the herd above 200,000 cells/ml, was 22% in composted bedded pack barns and 19% in sand bedded freestalls, a difference that's not statistically significant.
The cows' SCC average was 242,000 cells/ml in the compost bedded barn and 229,000 cells/ml in the sand bedded freestall barns, but again there was no statistical difference.
The same was true for bulk tank SCC: 230,000 cells/ml for compost bedded barns and 205,000 cells/ml for sand-bedded freestall barns.
"Overall, no differences were observed for the main effects of housing, maximum humidity index or [cow] hygiene score," says Jeff Bewley, one of the lead researchers. "These results indicate that compost bedded pack barns provide a housing environment comparable to sand bedded freestalls in Kentucky," he says.
"Additional research is needed to determine if these results are consistent in compost barns and sand freestalls not following best management practices," Bewley adds.