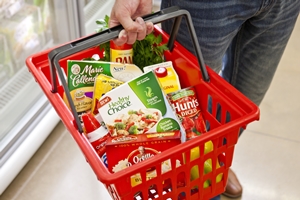 The best way for ConAgra Foods Inc. to commemorate the two-year anniversary of buying Ralcorp Holdings Inc. may be to undo the deal.
Since ConAgra completed the $6.7 billion acquisition, it's the only food-products maker in the Standard & Poor's 500 Index that's handed losses to shareholders, making it one of the industry's cheapest stocks. Chief Executive Officer Gary Rodkin last month announced plans to step down as he struggles to prove the purchase he oversaw was worth the money.
It's time for ConAgra's board to evaluate options, including breaking up the $14 billion company and selling the pieces, according to Rhino Trading Partners LLC. ConAgra also could draw the attention of activist investors. While Rodkin said in November 2012 that adding Ralcorp's faster-growing private-label business would be a "great fit" for the maker of Chef Boyardee, Slim Jim and Healthy Choice foods, the unit has since dragged down profit and contributed to a $681 million writedown.
"When you make a very large bet and it's not working out and your CEO leaves, this is exactly the kind of situation where you'd want to be evaluating strategic alternatives," Timothy Chen, a New York-based analyst at Rhino Trading, said in a phone interview. "We're two years post-merger and people expect results. If the results aren't there, investors are going to expect the board to take action."
Teresa Paulsen, a spokeswoman for Omaha, Nebraska-based ConAgra, said in an e-mail last week that the company is "confident of and committed to our strategy that includes differentiated positioning and strong balance among our consumer foods, commercial foods and private brand businesses. We are making good progress and we are confident of our ability to meet this year's financial commitments."
Hybrid Company
Before the Ralcorp acquisition, ConAgra was focused on branded packaged foods such as Hunt's ketchup, Swiss Miss cocoa and Orville Redenbacher's popcorn. Most are second- and third- tier brands, according to Ken Shea, a food and beverage analyst for Bloomberg Intelligence.
Buying Ralcorp made ConAgra more of a hybrid company by substantially increasing its revenue from private-label foods, which are sold under supermarket names.
Most food companies sell either branded products or private-label items, so ConAgra still has to prove that it makes sense to have both, Shea said. Skepticism that it can is reflected in the stock price, he said.
Underperforming Shares
From the deal's closing in January 2013 through last week, ConAgra shares slipped 0.3 percent, while every other food- products company in the S&P 500 advanced at least 10 percent, according to data compiled by Bloomberg. ConAgra was valued last week at about 14 times this year's estimated profit, a 30 percent discount to the median multiple for similar-sized North American food manufacturers, the data show.
The acquisition tripled ConAgra's ratio of debt to earnings before interest, taxes, depreciation and amortization. Its credit standing was lowered to one level above junk status by S&P. And for the fiscal year ended in May, the company booked a $681 million non-cash charge, most of which related to the private-label business.
"ConAgra really stretched its balance sheet almost to the limit to buy Ralcorp," Shea said in a phone interview. While the writedown doesn't impact cash flow, "it does communicate to investors that the company perhaps overpaid."
Even after the writedown, ConAgra's goodwill-to-assets ratio is about 40 percent, among the highest in the S&P 500, data compiled by Bloomberg show. Goodwill is the amount paid above the book value of a target company's assets. If the value declines after the acquisition closes, it must be written down on the acquirer's balance sheet.
Bad Situation
"ConAgra is burdened with a challenging portfolio, and the situation is getting worse," Alexia Howard and other analysts from Sanford C. Bernstein & Co. wrote in a July note. "It remains to be seen whether the company can successfully manage both private-label and branded products under the same roof."
Amid the challenges the Ralcorp deal has presented, ConAgra said last month that CEO Rodkin plans to retire next May and that it's searching for a replacement.
"They're really in limbo right now," Jack Russo, an analyst at St. Louis-based Edward Jones & Co., said in a phone interview. "I don't see a lot of options. I think investors are just going to have to be patient as we go through this leadership change."
A breakup or sale may be unlikely, at least for right now, because ConAgra probably prefers to give the next CEO a chance to lay out a strategy, Russo said. It would also be difficult to find a buyer that wants the whole company given that it operates two different businesses, he said.
TreeHouse Combination
Selling itself in pieces is an option, Chen of Rhino Trading said. It may make sense for TreeHouse Foods Inc., a $3.5 billion private-label foodmaker, to combine with that piece of ConAgra, he said. TreeHouse has purchased at least 13 companies since 2006, though this would by far be its largest deal, according to data compiled by Bloomberg.
Ron Bottrell, a spokesman for Oak Brook, Illinois-based TreeHouse, said the company doesn't comment on deal speculation.
The dilemma in divesting Ralcorp now is that ConAgra may get less than it paid for the business, Russo of Edward Jones said.
Activist Invitation
Still, the CEO departure and Ralcorp disappointments have opened the door for some sort of deal or even activist investors' initiatives, according to Chen.
On the company's June earnings call, analysts from firms including Citigroup Inc. and Barclays Plc also asked whether it's time to explore strategic alternatives such as a breakup or selling assets to boost shareholder value. Absent any changes, ConAgra's shares may not have any upside given that they traded last week for about the same price as analysts' average 12-month price target, data compiled by Bloomberg.
"The board certainly needs to evaluate all options," Chen said. "If they don't, it's not going to be very long until their shareholders ask them to -- if they haven't already."