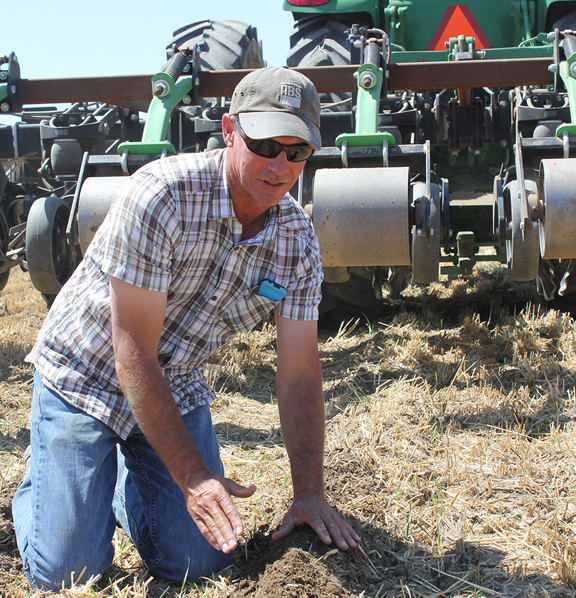 Mike McRee found benefits he never expected when he adopted the soil cultivation method for his forage crops.
Source: Sustainable Conservation
Like many other farmers in California's San Joaquin Valley, Mike McRee was water-poor in the summer of 2014.
Very low rainfall meant a lack of soil moisture and a decline in groundwater levels. A dairy producer, McRee milks close to 2,000 cows and double-crops his own dairy forage on about 850 acres near Chowchilla. Without normal surface water deliveries due to the drought, McRee saw higher energy costs to pump all his irrigation water. He credits the water-saving capability of conservation tillage (CT) for helping his crops and his farm stay productive.
Conservation tillage is soil cultivation that leaves the previous season's crop residue on fields before and after planting the next crop. The most common methods in the San Joaquin Valley are strip till, where only a narrow strip is tilled for a seedbed, and no-till, where one crop is planted directly into the residue of the next crop without any soil disturbance. A significant reduction in particulates from dust and diesel emissions is also a key benefit of conservation tillage.
One of the earliest innovators in CT, McRee has made some changes in his forage production system due to uncertainty of water supplies – going with shorter season varieties and using drip irrigation where possible, but he points to his soil's increased water holding capacity as one of CT's greatest benefits.
McRee said when he first started with CT he received advice from University of California crop systems specialist Jeff Mitchell and fellow dairyman Dino Giacomazzi. Since that time, he has been involved in efforts to share CT knowledge with other growers in partnership with Sustainable Conservation, a nonprofit organization that promotes agricultural practices that work for farmers and the environment. 
McRee's forage crop system was one of the highlights of a recent Sustainable Conservation CT bus tour. The annual bus tour highlights the most innovative farmers practicing conservation tillage in the San Joaquin Valley.
"Mike McRee's farm was a valuable part of the tour as it gave us an opportunity to see his successes and his challenges," said Ladi Asgill, Senior Project Manager at Sustainable Conservation.
McRee's said his loss of surface water deliveries has caused him to pay close attention to water use and how it affects his soil.
"I've noticed a huge increase in the water-holding capacity of my ground since I've gone with CT. With conventional tillage, we had sealing-off issues and much less water infiltration," McRee said. "The tilth of the soil was terrible at first, but after three or four years of CT, it has really mellowed out."
With his ground's increased water-holding capacity, McRee said he is able to spread his irrigation intervals out over the growing season as well as decrease the number of irrigations. In his flood-irrigated fields, he said there is also improved consistency in the soil's ability to absorb water. That improvement has led to more consistent forage crop stands and more consistent yields overall.
"Initially I was just interested in saving passes through the fields, using less fuel and labor, but I found that there are numerous benefits to conservation tillage throughout the growing season," said McRee. "There has been a huge difference in my soil since starting CT. It has really mellowed out. The tilth, the organic matter, the earthworms. Those things are giving me more consistent crop yields from year to year. No more extreme highs and lows."
McRee said that visits to Midwestern farms where CT is commonly used led to his conviction that CT would fit in with his forage operation.
"In the Midwest they aren't worried about saving soil moisture like we are here – they generally have plenty of that," he said. "They use CT to warm up the soil for planting. We have different needs here, but I believed it was doable on my operation."
McRee said that since he first began CT on his ground in 2007, there has been considerable interest from neighbors who also grow forage crops. He used his CT equipment to do some custom fieldwork for them and many growers have adopted and adapted CT systems for their own use.
"It's rare to see conventional farmed corn silage around here now," McRee said.
He also grows tomatoes and alfalfa, but hasn't tried CT on those crops. Other than the drip on 120 acres, McRee uses flood irrigation on his silage crops. Drip irrigation will take more time to apply water, but McRee said he would not only save water but also save time getting back into the field. He is also thinking about planting into dry ground and letting the moisture move up to the seed.
McRee admits that some of his first attempts with CT did not go well. He tried no-till wheat, but hard, compacted soils stymied him. He began with an Orthman 1tRIPr strip till tool, but found he needed to go deeper to increase water infiltration. At this point he feels he has the right equipment to do the job, noting that is key to success with conservation tillage.
Working with the Natural Resources Conservation Service (NRCS), McRee has been able to tap into funding through the agency's Environmental Quality Incentives Program (EQIP). This NRCS program assists growers with implementation of practices to improve soil, water, air and other resources. 
McRee does a fall primary tillage, ripping down to 18 inches on heavier soils with a Wilcox 7 shank with crumbler. Vertical tillage, he noted, has replaced discing to achieve a smooth seedbed without turning soil completely over.
"This keeps the organic matter in the top three inches of the soil," McRee said.  It is still important to manage that organic matter, he noted. Trash wheels on his strip finisher tool help with that when necessary.
Preparation for corn silage planting begins after winter forage is harvested. McRee explains that he rips down 13-14 inches and uses coulters to pack the seedbed. After pre-irrigation, he uses the Dawn Pluribus strip till row unit, a tool that preps an eight-inch band of soil for planting. Using GPS, MCRee said he can run his tractor 6-7 mph for this pass.
"With three passes I can do everything," he said. 
Depending on field conditions, he will decide if an herbicide application is necessary prior to planting. Most of the time, McRee said, he will spray post-planting when weed pressure is determined. He said he has also learned to pay attention to water management prior to harvest because of compaction issues.
McRee said when he started using his strip finisher he actually achieved two goals: the smoother field was easier on his equipment when he drilled in seed and his stands were much more consistent from one end of the field to the other. With experience and consideration for soil types and field conditions, McRee did some custom design for strip till tools. He also had some cultipack wheels custom made to disrupt less stubble.
Pointing out a field just to the west of his dairy, McRee said he strip-tilled only one half of the 80-acre field and the rest was tilled conventionally. It was clear which was which.
"The conventionally tilled ground was hard and yields were lower than in the strip tilled field," he said.