Put your detective hat on in the field  
If that picture perfect stand of corn you expected to see emerge this past spring never materialized, now's a good time to put on your detective hat, go out into the field and figure out why. It's important to make the effort because non-uniformity in corn stands places your investment in your planter, seed, other inputs and time at risk of lower returns.

Research by DuPont Pioneer shows if the aggregate plant spacing standard deviation in a commercial field is improved by only 1", the resulting yield benefit is about 3.4 bu. per acre. The yield increase needed to just offset the cost of a planter meter calibration for a 600-acre corn grower using a 12-row planter is only 0.5 bu. per acre.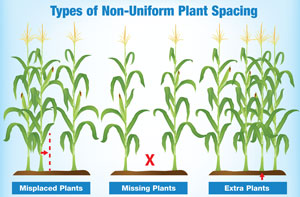 Evenly spaced corn plants capture the most available sunlight and convert that energy into yield. Misplaced or missing plants can contribute to yield loss.

The types of non-uniform plant spacing to look for include misplaced plants, missing plants (skips) and extra plants (doubles). It's useful to know there are varying degrees of loss associated with each of these problems, and loss isn't always a for-sure thing, according to Pioneer agronomy services. Their take on each scenario:
Misplaced plants might decrease yield relative to having a uniform stand.
Missing plants will decrease yield relative to having a uniform stand. You can expect to see the yield of adjacent plants to increase, but it won't be enough to compensate for the missing plant.
Extra plants might slightly increase yield if the stand is below optimum. Yield of doubled plants as well as adjacent plants will decrease, but the yield of the extra plant will likely compensate for this reduction.

Set for success. Many factors can contribute to non-uniformity of plants in the cornfield. One of the most common is a lack of proper planter calibration, says Farm Journal Associate Field Agronomist Missy Bauer. To fix this, check each facet of the planter and make adjustments before and during planting. 

"Inspect everything involved with the seed transmission: chains, sprockets, bearings, idlers and clutch assembly," she says, "including all of the components involved in seed metering, as well as the meter itself." 

Other planter components to check include: parallel arms, row cleaners, no-till coulters, gauge wheels, disk openers, seed tubes, closing wheels and seed placement.