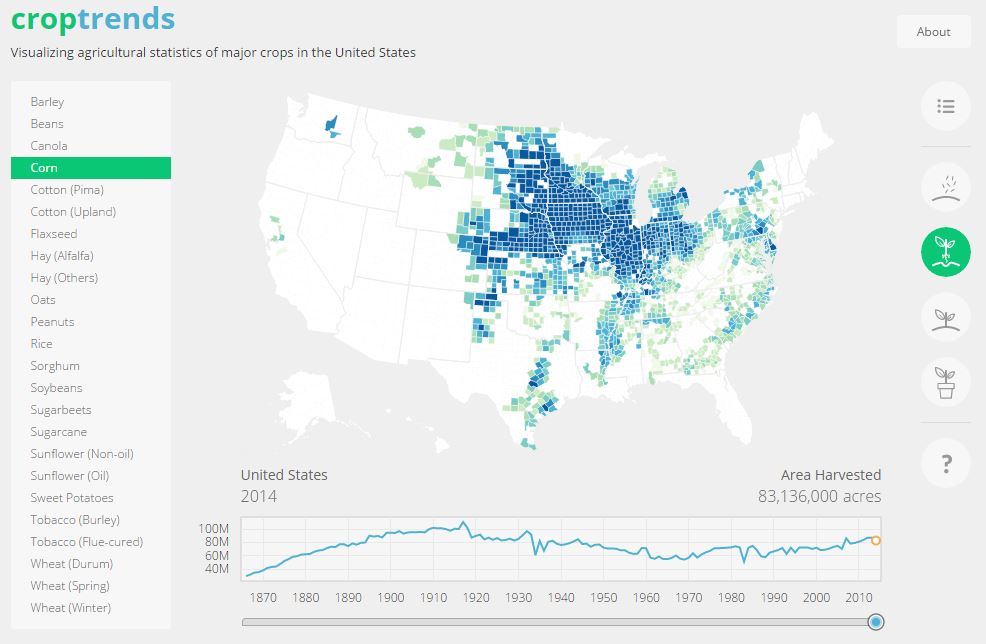 In reality, there's not actually an app for everything. Plenty of gaps and opportunities still exist. These realized needs fueled some of the inspiration behind the USDA-Microsoft Innovation Challenge, which encouraged contestants to use USDA's open data to create mobile apps and online tools for the agriculture industry.
"For more than 100 years, USDA has compiled data on the farm economy, production, and the health of crops around the country, and it is exciting to see such modern, useful tools spring from these information sources," notes Agriculture Secretary Tom Vilsack.
Daron Green, deputy managing director of Microsoft research, added that this project is a good example of how public-private partnerships can promote more resilient and sustainable food production.
The contest awarded $63,000 in cash and prizes to the winners, which include:
Farm Plenty – an app that shows farmers data about other crops grown near them so they can make better decisions about their own crop mix. It was the grand prize winner
"In the past year, I've talked to many farmers and learned how hard it can be for them to make a living," says creator George Lee. "The USDA has a wealth of data on crops and prices that can help farmers. The challenge is making it relevant for their own local circumstances."
Green Pastures – a dashboard that helps visualize a variety of data from NASS, ERS, ARMS and other sources. It beautifully visualizes useful data from these agencies. This tool received second prize.
What's Local – third prize recipient goes to this tool, which digs into Census data to connect needs of urban population centers with area farmers.
Farm Profit Calculator – the student prize goes to a team from the University of Nebraska-Lincoln.
"The goal of this app is to give information to farmers to allow them to make informed decisions when choosing what to spend money on in the hopes that lowering costs would help their bottom line," according to creators Fernando Napier and Matt Pedersen.
Croptrends – this dashboard, which received honorable mention, is another tool that beautifully visualizes NASS data so users can easily look at a variety of crop production trends.
"We wanted to develop a single application that would allow users to easily explore, compare, and get insights in seconds," according to the developers.
VAIS – this digital tool won the Popular Choice award. The goal is to visualize crowd-sourced pricing data.
Farmed – a tool that combines VegScape data and local weather data. It won the Large Organization Recognition award.
"Combining the advantages of cloud computing resources with the government's desire to provide open access to public data is likely to transform scientific research and business innovation," Green says.