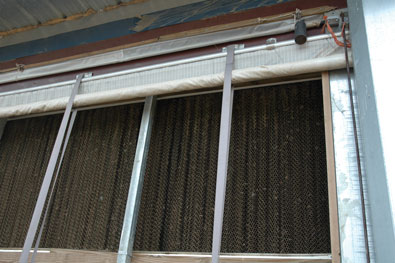 Evaporative pads can soak up 15% of a dairy's summertime water needs just to cool barn air.
The bad news: Evaporative pads use about the same amount of water as fence line soakers in conventional freestalls or open lots.

The good news: Most evaporative cooling pads are about 75% efficient. The water is absorbed by the air that is being pulled through the pad. The remainder of the water can be collected at the bottom of the pad and recycled back to the top.

Very little of the water that is used for cooling air through the evaporative pads ends up in lagoons. "But 75% of the water from soaker lines can enter lagoons," explains Joe Harner, an ag engineer with Kansas State University.

Still, you need to account for this extra water usage in your water budget, he says. The pads can use 0.3 gal. to 0.4 gal./hour/sq. ft. of evaporative pad.

In a 3,000-cow barn, that amount of water could add up to 50 gal./minute, or some 15% of the dairy's water usage during the summer.

Pads are made of cellulose material with channels that allow air to encounter moisture as it passes through the openings. The 6"-wide pads are generally considered the most economical, though pads are available in widths ranging from 4" to 12".

Harner says most manufacturers recommend a 400'/minute air speed at the face of the pad. Air moving faster will absorb less moisture and be less efficient.

On average, evaporative pads cool the air 8¢ªF to 15¢ªF during the afternoon hours in the Midwest, where the relative humidity tends to be above 50%. "The cooling potential increases as the relative humidity decreases," Harner says.

In California and other areas with low humidity, evaporative cooling at 100% efficiency can drop temperatures 30¢ªF to 40¢ªF when outside ambient air is 90¢ªF to 100¢ªF. "Evaporative cooling has greater potential in the West because of the low humidity," Harner says.

Water quality is also important because mineral buildup on the pads will reduce their ability to hold water. Reverse osmosis or a similar treatment method is recommended to remove minerals from the water prior to use.
Bonus content:

Click here and then on Cooling Inlet Air on the Kansas State University website.

Click here for the spanish version.