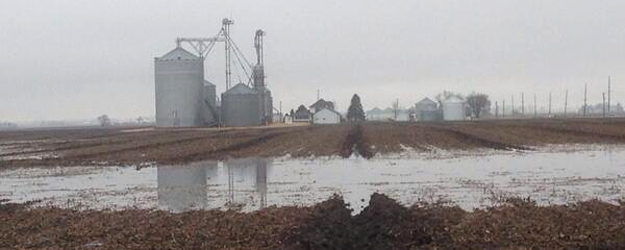 Welcome to the 2014 weather market.
As of April 20, USDA estimates 6% of the U.S. corn crop is planted, which compares to a five-year average 14% by this time. Unfortunately, the weather forecast doesn't look favorable for planting conditions in the coming week.
Severe thunderstorms and isolated tornadoes are a possibility from April 26-29 across a broad area stretching from the central and southern Plains into parts of the Midwest, Mid-South, and Southeast, according to USDA's agricultural weather highlights.
Storm-total rainfall could reach 2 to 4 inches in much of the Mississippi, Missouri, and Ohio Valleys. In the storm's wake, unusually cold air may result in multiple freezes in the northern Corn Belt and across the nation's mid-section and the central High Plains.
The National Weather Service 6- to 10-day outlook for April 30 – May 4 calls for below-normal temperatures across the eastern two-thirds of the nation, while warmer-than-normal weather will prevail in the West. Meanwhile, below-normal rainfall across most of the western and central U.S. will contrast with wetter-than-normal conditions along the Atlantic Seaboard and from the Ohio Valley into the Northeast.
"We are getting delayed now when we should have extremely good progress in planting," says Jerry Gulke, president of The Gulke Group. "We are now being delayed in the Midwest where we plant 25% to 35% a week without a problem."
Hear Gulke's full audio analysis:
Yet, the markets don't appear to be too nervous. After last year's late start and high yields, Gulke says, the market isn't convinced farmers won't hit the replay button for this year. "There is a sense of complacency in the market, which is probably good," he says. "The market is telling us, at $5, they aren't real worried about corn acres and believe the corn will get planted eventually."
Gulke says there's the old adage that the farmer likes to plant corn. "When he gets on that planter and the sun is shining, he may plant more corn than he thought he was going to plant," he says. "I don't think that's the case this year," he says. "Last year high crop insurance guarantees. I don't think you're going to get the guys in northern Minnesota and the Dakotas to plant corn late when they already have bins full of last year's late-planted grain."
Another factor to keep corn acres in check is strong November soybean prices. "Even though the market may not believe it, we won't turn back to the corn acres like we have before," he says. "We will keep this market nervous through May and see if we can catch up in our planting."
Gulke says this weather market and strong global demand is really making for interesting markets. "We probably have about 30 days to make some major marketing decisions," he says. 
Have a question for Jerry? Contact him at 815-721-4705 or jerry@gulkegroup.com.

For More Information  
See current market prices in AgWeb's Market Center.
---