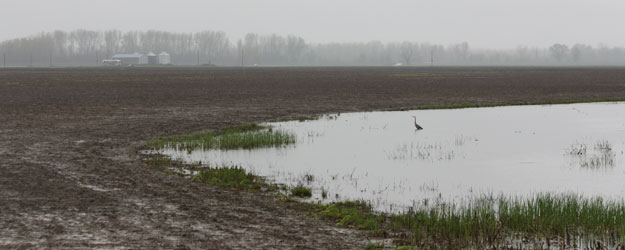 Leave those planters parked. The forecast next week says fields will likely remain too wet to plant before the next storm arrives.
The cold, wet weather covering most of the Corn Belt this week will break soon, but dry weather will only last long enough for producers to get an inkling that they might be able to return to their drenched fields to plant.
"Unfortunately, looking ahead to next week, it will stay cool in the wake this week's storm," says Brad Rippey, USDA meteorologist. "And just when things might be looking up, another storm develops across the Plains states around May 7th or 8th."
The forecast for next week calls for both above-normal precipitation and below-normal temperatures, he says. Fields will likely remain too wet to plant, and then the next storm will arrive.
Persistent rains and cold temperatures in parts of the Corn Belt continue to delay corn planting. Corn planting as of April 27 was 19% complete, which is well behind the five-year average of 28% and less than the 21% expected by the trade.
Even so corn planting is well ahead of last year, when only 5% of the corn was planted at this time. In fact, corn planting this year is progressing at a faster pace than last year in all of the top-18 corn-producing states. But that could change quickly if rain and cold weather persist even longer.
 
Slow Return to Fieldwork
"It's going to be a very slow return to fieldwork," says Rippey. "A lot of the frost is now out of the ground, but the lingering effect of this year's deep frost coupled with continued low temperatures is that soil temperatures in some areas are in the 30s. Soils this year are slow to warm up." Optimal soil temperature for corn planting is closer to 50° F.
Last spring was even wetter than this spring in the Midwest, and corn planting at the end of April was just 7% complete, which was a record-slow pace over the past 20 years. Eventually better weather arrived, and astounding 43% of the U.S. corn crop was planted during the week ending May 19.
"If we get open weather headed into late May, a lot of corn planting will occur," says Rippey.
 
Soybean Planting Begins in the Delta
With producers still heavily focused on corn planting, soybean planting is just beginning in some states. As of April 27, only 3% of the nation's beans were already in the ground, compared with zero percent last year and a five-year average of 4%. The majority of soybean planting has occurred in the Mississippi Delta region in Arkansas, Mississippi and Louisiana, where between 16% and 54% of the beans has been planted.
 
More Information