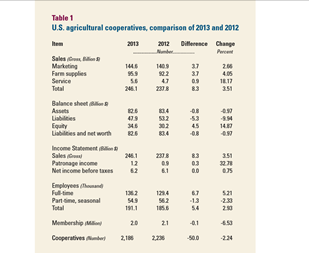 With more than $246 billion in business last year, the country's agricultural co-ops posted record sales, according to numbers released by the USDA.
"These sales and net income records for ag cooperatives, combined with strong gains in employees for 2013, underscore the strength and productivity of the nation's farmer- and rancher-owned cooperatives," Agriculture Secretary Tom Vilsack said.
The United States has 2,186 ag co-ops, whose members join forces to market and distribute farm products such as grains, dairy, and livestock. The two biggest areas of business for co-ops? Grain and oilseeds, with $66 billion in sales last year, and dairy, with $40 billion in sales. Agriculture customers also buy farm supplies from co-ops, which sold $67 billion worth of feed, crop protectants, seed, and petroleum in 2013.
As a group, ag co-ops also saw record net income of $6.2 billion in 2013, up slightly from 2012. But that may be tough to repeat, thanks to falling prices for corn, wheat, and soybeans this year.
The USDA also published its list of the top 100 agricultural co-ops in the country. Minnesota's CHS, located in St. Paul, tops the list with $44 billion in revenue from energy, farm supplies, grain, and food.