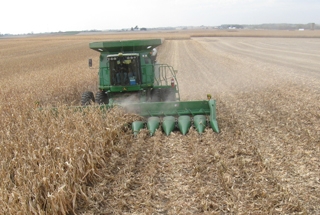 Corn futures fell amid an outlook for record output in the U.S., the biggest grower, with INTL FCStone Inc. saying the crop will beat a government forecast.
U.S. farmers may gather 14.96 billion bushels of corn this year, FCStone wrote in an e-mailed report yesterday, from 13.93 billion bushels in 2013 and more than the U.S. Department of Agriculture's September forecast for 14.4 billion bushels.
"Finally someone has put the U.S. corn crop very near to 15 billion bushels," economist Dennis Gartman wrote in his newsletter today. "These are stunningly large crops."
Corn for December delivery dropped 0,5 percent to $3.195 a bushel on the Chicago Board of Trade by 5:14 a.m. Prices yesterday declined to $3.1825, the lowest for a most-active contract since September 2009.
"Rains are disrupting harvest work but the outlook for yields remains very high," Paris-based farm adviser Agritel wrote in a market comment.
U.S. stockpiles of ethanol, a fuel made from corn, rose 1.3 percent to 18.8 million barrels last week, the highest since March 2013, U.S. Energy Information Administration data yesterday showed. Denatured ethanol for November delivery slumped 2.6 percent in Chicago yesterday, before rising 1.1 percent today.
"Ethanol inventories have been rising, which is not seasonally normal," Gartman said. "Energy is in vast supply then and we fear that demand for corn in ethanol production may weaken sharply in the weeks ahead."
Soybeans for delivery in November fell 0.4 percent to $9.135 a bushel after retreating to $9.04 yesterday, the lowest for a most-active contract since July 2010.
Wheat for December delivery rose 0.3 percent to $4.805 in Chicago. Prices fell to $4.6625 on Sept. 25, the lowest for a most-active contract since June 2010.
Milling wheat for November delivery traded on Euronext in Paris advanced 0.5 percent to 155.50 euros ($196.40) a metric ton. Egypt, the world's biggest wheat buyer, agreed to purchase 120,000 tons of grain from France yesterday.
"French origins are very competitive in international markets at current levels," Agritel wrote. "The European market also benefits from the decline of the euro. The global situation nevertheless remains burdensome and the potential for increase seems limited."