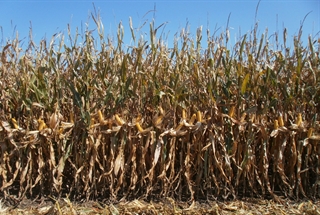 Corn fell from the highest price in five weeks as dry weather forecast in the U.S. Midwest is expected to allow farmers to accelerate harvesting of a record crop. Soybeans and wheat also declined.
Drier weather for the rest of this week and the next will "significantly" improve Midwest harvest conditions, after rain stalled progress, MDA Weather Services wrote in a forecast yesterday. About 24 percent of the U.S. crop, the world's biggest, was harvested as of Oct. 12, up from 17 percent a week earlier and trailing a five-year average of 43 percent, the U.S. Department of Agriculture reported yesterday.
Corn for December delivery fell 1 percent to $3.535 a bushel on the Chicago Board of Trade by 5:10 a.m. Prices rose to $3.575 yesterday, the highest level for a most-active contract since Sept. 8, capping a two-day gain of 6.9 percent.
"The rain is clearing out in the extended forecast and the harvest not only should, but will, accelerate," economist Dennis Gartman wrote in his daily newsletter. "Modern machinery on the farm is really quite amazing. With a few days of good weather the next USDA report will show that the corn and the soybean harvest is right back on track."
U.S. farmers are set to collect a record 14.475 billion bushels of corn this year, the USDA forecast on Oct. 10.
The Korea Corn Processing Industry Association passed on a tender to buy 55,000 metric tons of corn yesterday due to higher-than-expected prices.
Soybeans for November delivery fell 0.4 percent to $9.6125 a bushel, after climbing to $9.705 yesterday, the highest since Sept. 19. Futures trading volumes were 24 percent higher than the average for the past 100 days for this time of day, according to data compiled by Bloomberg.
Wheat for delivery in December fell 0.7 percent to $5.055 a bushel in Chicago, breaking a three-day advance. Milling wheat for November delivery traded on Euronext in Paris added 0.2 percent to 158.75 euros ($200.77) a ton.