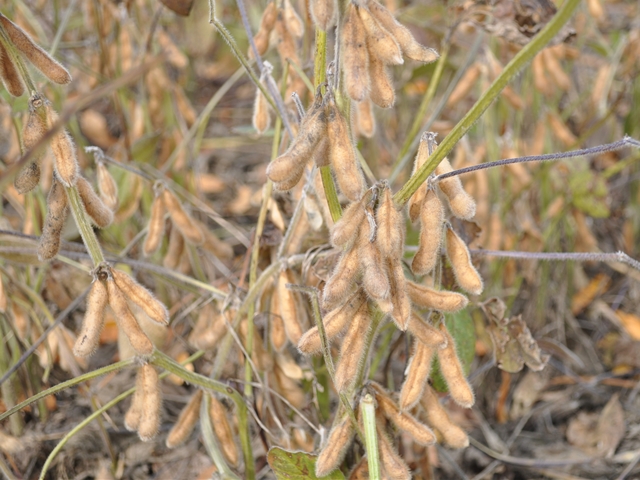 Corn and soybeans fell in Chicago on speculation U.S. farmers will accelerate harvesting this week amid prospects for mostly dry conditions. Wheat also dropped.
Forty-six percent of corn in the main U.S. growing areas was collected by Oct. 26, behind the average pace of 65 percent, U.S. Department of Agriculture data show. The soybean harvest was 70 percent complete, compared with the average 76 percent pace. The agency is scheduled to update its weekly crop progress report today. Much of the western and central Midwest, including top producers Iowa and Illinois, will see less than 1 inch (2.5 centimeters) of rain in the next seven days, National Weather Service data show.
"Weather doesn't appear to be an issue with harvest in the U.S. or for row crops in South America," Paul Georgy, the president of Allendale Inc., said in an e-mailed note today. "Grain markets are lower on profit-taking and harvest progress."
Corn for December delivery fell 0.9 percent to $3.7325 a bushel at 7:12 a.m. on the Chicago Board of Trade. Futures rallied 17 percent last month, the biggest gain since July 2012, as rain delayed the harvest in the U.S., expected by the USDA to be the largest on record.
Soybeans for January delivery fell 0.8 percent to $10.41 a bushel. Futures rallied 15 percent last month, also the most since July 2012. Soybean meal for December delivery fell 1.3 percent to $384.10 per 2,000 pounds today, after surging 11 percent last week amid shipping bottlenecks on U.S. railways.
Weather Conditions
Eastern and southern areas of the Midwest may be "somewhat wetter" than other growing regions in the next seven days, slowing harvesting in some areas as well as winter wheat planting, forecaster DTN said today. Still, conditions will be "mostly favorable," with the harvest expected to accelerate especially in the west. Growing areas in Brazil, the world's biggest soybean exporter, will see scattered showers in the next week that should aid recently planted crops, DTN said.
Wheat for December delivery in Chicago dropped 0.8 percent to $5.28 a bushel. Prices climbed 11 percent in October, the biggest monthly advance since March. In Paris, milling wheat for January delivery rose 0.3 percent to 172.75 euros ($215.82) a metric ton on Euronext.
Egypt, the world's biggest wheat importer, bought 60,000 tons of French supplies in a tender Nov. 1. The country's state- run grain buyer has purchased French wheat in its last four tenders and hasn't bought U.S. supplies since late September, Bloomberg records show.
In Russia, which competes with the U.S., France and other countries for global grain exports, prospects have deteriorated for the 2015-16 wheat crop amid cold and dry weather, Macquarie Group Ltd. said in a report today. Output may total 54 million tons, down from 61.5 million tons in the prior season, the bank said. Production next year may also be smaller in Ukraine as conflicts with Russia affect financing for agriculture. The country's 2015-16 crop was pegged at 22 million tons, down from 25 million in the previous season.