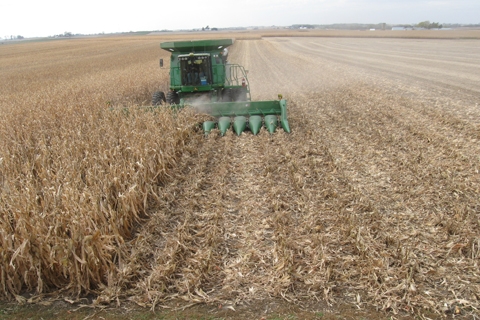 Corn and soybeans fell for a second session in Chicago on speculation that drier and warmer weather will allow U.S. farmers to accelerate harvesting of crops that are expected to be the biggest on record.
Dry weather in most of the Midwest this week will allow corn and soybean harvesting to move forward after recent rain, MDA Weather Services said Oct. 17. Twenty-four percent of corn was collected in the main U.S. growing areas by Oct. 12, behind the average pace of 43 percent, U.S. Department of Agriculture data show. The soybean harvest was 40 percent complete, compared with the average 53 percent pace. The USDA is scheduled to update its weekly crop progress report today.
"The weather forecast in the U.S. has cleared up and remains near ideal for harvest conditions, warm and dry," Matt Ammermann, a commodity risk manager at INTL FCStone, said in an e-mailed note. "Talk of big yields and potential harvest pressure should allow for price values to weaken this week."
Corn for December delivery fell 1 percent to $3.445 a bushel at 5:17 a.m. on the Chicago Board of Trade. Prices rose 4.2 percent last week, the biggest gain since the week to March 7, after rain delayed harvesting. The grain has still tumbled 18 percent this year as the USDA estimates the U.S. harvest, the world's largest, to rise to a record 14.475 billion bushels.
Soybeans for November delivery dropped 1.1 percent to $9.41 a bushel, after climbing 3.2 percent last week. Prices are down 27 percent this year. U.S. farmers may harvest 3.927 billion bushels of the oilseed, the most ever, the USDA says.
Brazil, the world's the biggest soybean exporter, may see "crucial rainfall" this week in central and southeastern areas that have experienced dryness, which will encourage farmers to accelerate planting, QT Weather said in a report yesterday. The country's output may climb to a record 94 million metric tons in 2014-2015, the USDA predicts. Planting started this month and will run until December.
Wheat for delivery in December dropped 1 percent to $5.1075 a bushel in Chicago. In Paris, milling wheat for November delivery fell 1.1 percent to 158.25 euros ($202) a ton on Euronext.