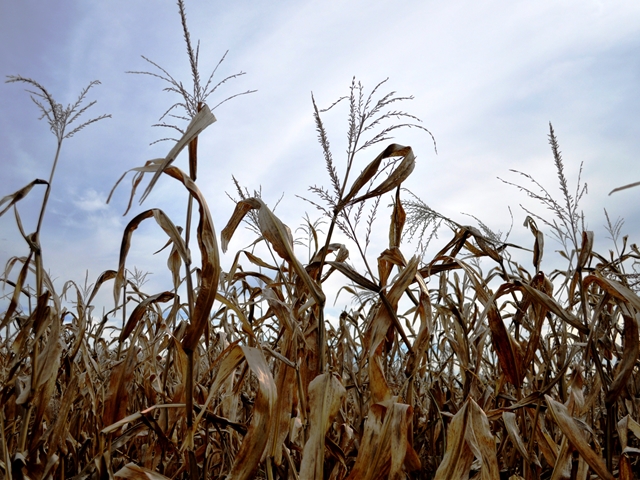 Corn declined for a third day as a record harvest neared completion in the U.S., the world's biggest grower.
Eighty-nine percent of corn in the main U.S. growing areas was harvested as of Nov. 16, ahead of the average pace, the U.S. Department of Agriculture said. The agency expects U.S. farmers to produce a record 14.407 billion bushels. The soybean harvest was 94 percent complete, compared with an average pace of 96 percent at this time of year, the USDA said. Production will also be a record at 3.958 billion bushels, the agency estimates.
"The current cold weather has a limited impact on crop conditions," Arnaud Saulais, a broker at Starsupply Commodity Brokers in Nyon, Switzerland, said in an e-mailed report. The U.S. harvest progress reported yesterday was "in line with expectations."
Corn for March delivery dropped 0.3 percent to $3.895 a bushel at 4:27 a.m. on the Chicago Board of Trade. A third day of declines would be the longest streak since prices fell for five straight sessions ended Sept. 23.
Only minor harvest delays are expected in the Midwest this week and most farmers will be finished harvesting before rain arrives early next week, Commodity Weather Group LLC said yesterday.
Soybeans for January delivery rose 0.1 percent to $10.3725 a bushel in Chicago. Futures rallied 1.3 percent yesterday after a government report showed U.S. supplies inspected for export climbed 25 percent to a record 3.113 million metric tons in the week to Nov. 13. The U.S. is the world's top soybean producer. Soybean meal for January delivery climbed 0.7 percent.
Wheat for delivery in March fell 0.7 percent to $5.50 a bushel in Chicago, declining for a second day. In Paris, milling wheat for January delivery dropped 0.7 percent to 172.25 euros ($215.57) a ton on Euronext.