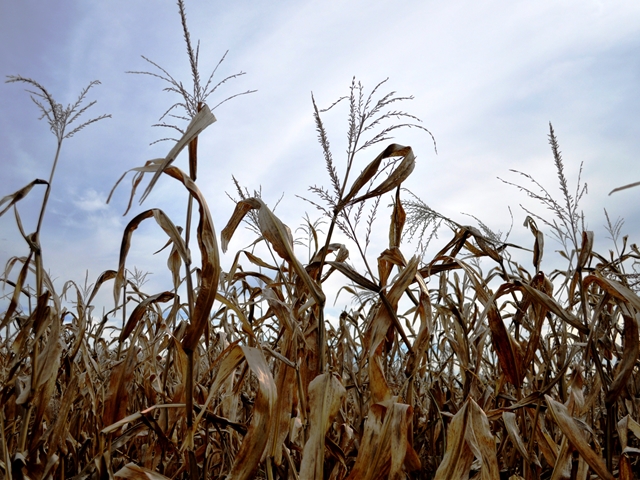 Corn and soybeans resumed declines in Chicago amid speculation that a government report next week will project that record U.S. crops will be even larger than previously expected.
U.S. farmers may harvest 14.556 billion bushels of corn, the most ever and larger than an October forecast of 14.475 billion, according to a Bloomberg News survey of analysts before the U.S. Department of Agriculture updates its forecast Nov. 10. The USDA may raise its soybean production estimate to 3.969 billion bushels from 3.927 billion, according to the average analyst estimate. The U.S. is the biggest grower of both crops.
"Everyone is sitting on their hands and waiting for the USDA report," Dave Norris, an independent grain broker in Harrogate, England, said by phone today. "Everyone seems to think they're going to increase production estimates again for corn and soybeans and up the yield estimates a bit as well."
Corn for December delivery declined 0.4 percent to $3.6875 a bushel at 5:22 a.m. on the Chicago Board of Trade. Prices fell in the first two days of this week before climbing 1.6 percent yesterday. The grain is down 13 percent this year amid the outlook for ample global supplies.
Soybeans for January delivery dropped 0.5 percent to $10.1425 a bushel, after gaining 0.9 percent yesterday. Prices are down 22 percent this year.
Farmers harvested 65 percent of corn and 83 percent of soybeans in the main U.S. growing areas as of Nov. 2, USDA data show. Mostly dry conditions in the Midwest and northern Great Plains in the next few days will aid harvest progress, DTN said.
"Forecasters are still bumping up their crop forecasts as potential harvest issues recede with sustained good weather," Commonwealth Bank of Australia said in an e-mailed note today. "Forecasts continue to suggest largely favorable conditions."
Wheat for delivery in December fell 0.5 percent to $5.2225 a bushel, declining for a third day. In Paris, milling wheat for January delivery dropped 0.3 percent to 171.25 euros ($214.52) a metric ton on Euronext.