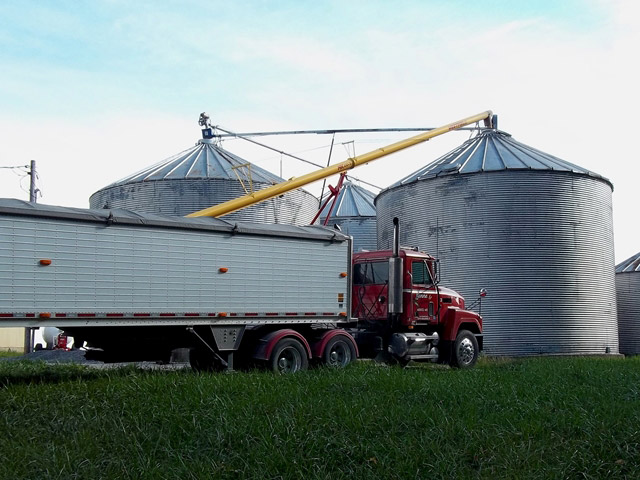 Farmers have 13% more old-crop corn stored on their farms now than a year ago, totaling 4.3 billion bushels, today's USDA stocks report reveals. That means they need to consider protecting downside price risk by enrolling acres in the Price Loss Coverage (PLC) program within the farm bill, says Jamie Wasemiller, The Gulke Group.
"There's a decent chance here that we as farmers could all sell a large amount of that corn at the same time to get ready for the next year's crop," Wasemiller warns.
Underscoring that concern is USDA's Prospective Plantings survey, also published today, which pegs acres at 89.19 million, higher than the average trade guess.
---
---
As a rule of thumb, producers who will receive fewer than $30 per acre for corn with Agricultural Risk Coverage—County (ARC-CO) should look at enrolling in PLC, Wasemiller says. Those who have already enrolled in ARC-CO may change their election as long as they do so no later than April 7.
"Looking at the corn number, we're currently at $3.78, and the reference price for PLC is at $3.70," Wasemiller says. "So we're not too far away. We've got a fair amount of corn to sell, so I do feel that there's an opportunity to collect a payment for 2014."
Enrollment in PLC also would allow producers to elect the Supplemental Coverage Option (SCO) over the next five years, boosting their crop insurance coverage up to the 86% level. That would add flexibility within the Farm Bill for the farmer during a time when there is uncertainty about the US fiscal budgets and maybe more importantly the budget allocated to the Farm Bill.  
Sorghum producers face a similar coin scenario for that crop as to which program makes the most sense, though Wasemiller leans toward PLC.
PLC And Basis. Recall that the marketing year average price reflects the national cash price including basis for crops such as corn, Wasemiller says. Roughly 40% of old-crop corn remains to be sold, and farmers as well as elevators have more corn in storage than a year ago.
Once planting ends, farmers will have between two and four months to clear their bins before the new marketing year begins.
"I don't know, barring a weather event, if there's going to be attractive opportunities [to sell corn] as far as basis is concerned," Wasemiller says. "We could see some relatively tough basis, and that will directly impact the marketing year average, which then directly impacts that ARC-CO payment or the PLC payment."
Updates For Other Crops. The decision for wheat and soybeans remains largely unchanged, Wasemiller says. It is almost impossible that you will see a PLC payment in either of these crops.
In its plantings survey, USDA left wheat acres in line with the market guess. Meanwhile, soybeans came in at 84.64 million acres, lower than the market guess.
Some might view the soybean figure as bullish, but Wasemiller isn't in that camp.
"I think once you get past that number, you're going to realize that hey, we've got South America," he points out. "84.64 is still a lot of acres. If we get a good crop, we're going to be swimming in soybeans."
On any of these crops, farmers need to evaluate their final farm bill decision in light of the question, What is my true risk?, Wasemiller advises. That's particularly true for corn.
"I want to be covered in case the price really gets low in 2016-18," he explains. "If we have another good crop, or two more good crops, if [the price] gets down to the lower $3s, I'll wish I had PLC."
What do these reports mean for your spring planting decisions and crop marketing strategy? Click here to post a comment on our discussion boards and continue the conversation.