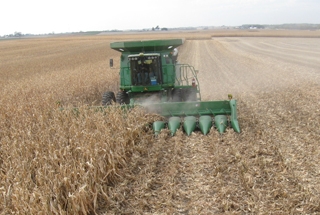 Corn fell for the first time this week in Chicago as farmers in the U.S., the world's top grower, begin harvesting what's expected to be the largest crop on record. Wheat also dropped.
Four percent of corn in the main U.S. growing area was harvested as of Sept. 14, in line with last year's pace, the U.S. Department of Agriculture said two days ago. Farmers may collect 14.395 billion bushels this season, the most ever, the agency said last week. Futures have tumbled 19 percent this year. Frost in parts of the Midwest last weekend probably didn't cause significant damage, and the region should experience a warming trend this week, forecaster DTN said today.
"The weather remains nearly perfect," economist Dennis Gartman wrote in his daily Gartman Letter. "The harvest that is beginning in the South can and will be sped along."
Corn for December delivery fell 0.6 percent to $3.4175 a bushel at 7:12 a.m. on the Chicago Board of Trade. The grain rose 1.6 percent in the prior two sessions amid concerns cold weather in parts of the U.S. and Canada would hurt crops. Prices still touched $3.3575 on Sept. 15, matching a four-year low reached on Sept. 11.
Soybeans for November delivery rose 0.2 percent to $9.83 a bushel. Prices fell to $9.695 on Sept. 11, the lowest since July 2010. The oilseed has slumped 24 percent this year as the USDA forecasts farmers in the U.S. will harvest a record crop of 3.913 billion bushels.
Wheat for delivery in December dropped 0.2 percent to $4.955 a bushel after touching $4.91 yesterday, the lowest for a most-active contract since July 2010. Prices declined for an eighth session today. In Paris, milling wheat for November delivery fell 0.3 percent to 161.50 euros ($209.26) a metric ton on Euronext. Egypt, the world's biggest wheat importer, bought 180,000 tons of French supplies in a tender yesterday.