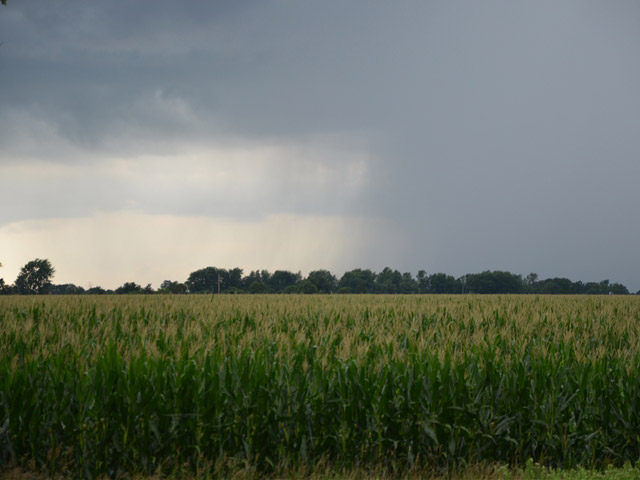 Corn rose, poised for the biggest weekly increase in more than a year, as rain delayed harvesting in the U.S., where production is expected to top a record.
Areas of the Midwest, including Illinois, Indiana and the eastern half of Iowa, received double the normal amount of rain in the past two weeks, National Weather Service data show. While the forecast has turned drier, it will take some time for fields to dry out enough to allow harvesting to accelerate, DTN said. Twenty-four percent of corn in main U.S. growing areas was harvested as of Oct. 12, behind the five-year average pace of 43 percent, the U.S. Department of Agriculture said.
"The ongoing U.S. corn harvest is being delayed," David Sheppard, a managing director at Gainsborough, England-based Gleadell Agriculture Ltd., said in an e-mailed note today. "The crop struggles to mature in the northern states due to adverse weather, potentially lowering production."
Corn for December delivery climbed 0.3 percent to $3.5325 a bushel at 5:17 a.m. on the Chicago Board of Trade. Futures were up 5.8 percent this week, heading for the biggest weekly gain since May 2013.
U.S. farmers are set to collect a record 14.475 billion bushels of corn this year, with soybean output at an all-time high of 3.927 billion bushels, the USDA forecast Oct. 10. The soybean harvest was 40 percent complete as of Oct. 12, behind the average pace of 53 percent.
Soybeans for delivery in November were little changed at $9.6725 a bushel. The oilseed headed for a 4.9 percent weekly gain, the biggest increase since August 2013.
Wheat for December delivery rose 0.8 percent to $5.21 a bushel in Chicago. The price earlier touched $5.2225, the highest for a most-active contract since Sept. 10. In Paris, milling wheat for November delivery added 1.1 percent to 161.25 euros ($206.61) a metric ton on Euronext.