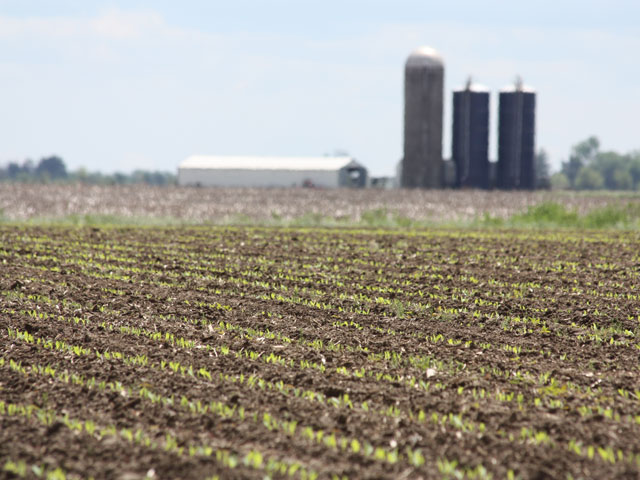 After months of speculation of the 2015 acreage mix, USDA released its first survey-based estimate, the annual Prospective Plantings report.
With a wide range of estimates for corn and soybeans ahead of the report, Jerry Gulke, president of The Gulke Group, knew there would be some surprises.
"The biggest surprise to me was that we didn't lower the corn acres as much as we thought," Gulke says.
Here's a report snapshot:
Corn: 89.2 million acres, down 2% from last year. If realized, this will be the third consecutive year of an acreage decline and would be the lowest planted acreage in the United States since 2010.
Soybeans: 84.6 million acres (a record high), up 1% from last year. Compared with last year, planted acreage intentions are up or unchanged in 21 of the 31 major producing States.
All Wheat: 55.4 million acres, down 3% from 2014. The 2015 winter wheat planted area, at 40.8 million acres, is down 4% from last year but up less than 1% from the previous estimate. Of this total, about 29.6 million acres are Hard Red Winter, 7.75 million acres are Soft Red Winter, and 3.43 million acres are White Winter. Area planted to other spring wheat for 2015 is estimated at 13.0 million acres, down slightly from 2014. Of this total, about 12.1 million acres are Hard Red Spring wheat. The intended Durum planted area for 2015 is estimated at 1.65 million acres, up 18% from the previous year.
All Cotton: 9.55 million acres, 13% below last year. Upland area is estimated at 9.40 million acres, down 13% from 2014. American Pima area is estimated at 150,000 acres, down 22% from 2014.
This report is based on surveys done the first two weeks of March, Gulke says, and December 2015 corn prices have rallied since then. "But, this report implies that even with lower corn prices in early March, compared to soybeans, farmers never intended to reduce corn acres that much," Gulke says. "It looks like the price of corn was not low enough to reduce acres."
Farmers showed they will increase sunflowers, barley and sorghum acres, all to the tune of 10% or more compared to 2014 acres.