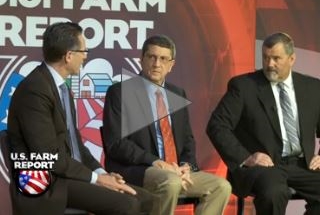 Commodity analysts at the 2015 Top Producer Seminar shared insights on recent corn market movements during a special taping of the "U.S. Farm Report" Marketing Roundtable.
For one thing, the U.S. dollar has contributed to commodity price movements.

"No question the dollar has been incredibly strong," says Mark Gold, Top Third Ag Marketing. "We had the Swiss release the cap on the Swiss franc in five minutes on Friday (Jan. 16), basically, which certainly had an effect on these markets. The beans have been under some pressure. The funds have started to liquidate. The corn market's been relatively firm here. We've put in a double bottom at $3.76 on the March contract, and we're trying to hold that level. There's a lot of talk about trying to buy acres out here, so the corn market's held up fairly well compared to the beans over the last week or so."
Meanwhile, old-crop corn has seen a bit of a bounce in recent days.
"There were several things in that $3.73 to $3.76 area, the 100-day moving average and some other indicators that some of the larger traders watch," explains Alan Brugler, Brugler Marketing & Management.  "I'm not looking for a huge rally from here, but I do think we have some short covering potential."
Speculators with a long position in the corn market likely will hang on, adds Dan Basse, AgResource.
"They see the growing season forthcoming," Basse notes. "You're seeing the index fund guys get out. They're down about 50% in the last three years, so they don't have any passion for commodities. But generally speaking, it's probably the wrong time to step on the accelerator and say, OK, corn's just ready to fall off the cliff. We think maybe it hails in a range of $3.50 and $4, and if we get the plantings in good weather next year that will take us down, but that's another day."
Click the play button below to watch the complete "U.S. Farm Report" Marketing Roundtable from the 2015 Top Producer Seminar:
To read more news and find additional information on the Top Producer Seminar or Tomorrow's Top Producer events, visit www.TopProducerSeminar.com.
....................................
Thank you to the 2015 Top Producer Seminar sponsors:
Premier Sponsors: Advance Trading, Apache Sprayers, BASF, Bayer CropScience, Cargill, Case IH, Dow AgroSciences, DuPont Pioneer, ESN, Farmers Business Network, Firestone, John Deere, New Holland, Top Third Ag Marketing, Verdesian
Co-Sponsors: CliftonLarsonAllen, Conservis, The Gulke Group, K-Coe Isom, Soybean Premiums, Wyffels Hybrids
Supporting Sponsors: FarmLink